Join Frontier Nursing University for this Free Virtual Event Celebrating National Rural Health Day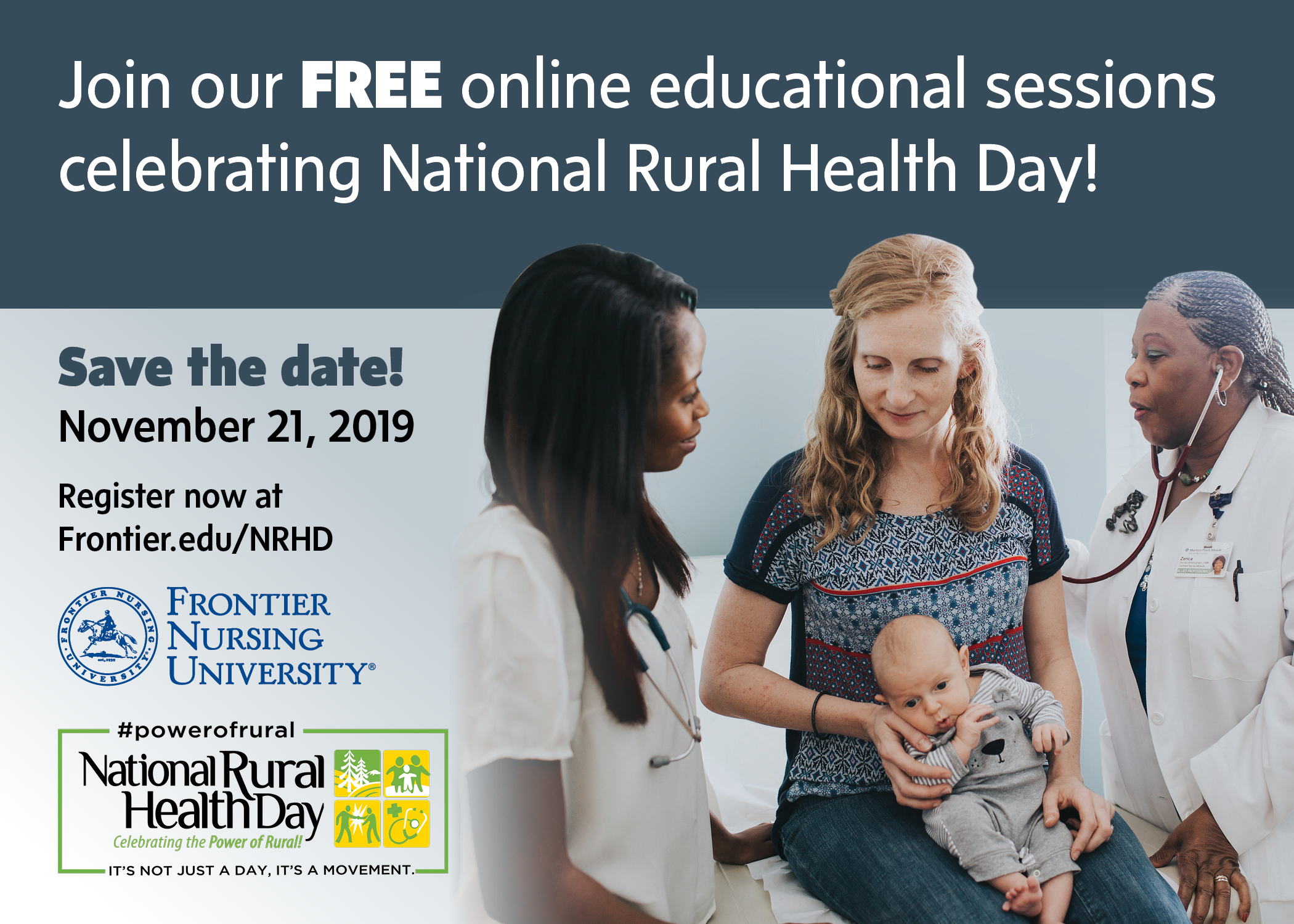 Join us for free, online sessions that celebrate the power of rural.
Hear from these FNU Faculty and Alumni nursing leaders in healthcare as they discuss how they address unique healthcare challenges faced by people in rural communities.
Join Frontier Nursing University Dean, Dr. Joan Slager live as she presents this free Continuing Education Course "Billing and Coding Tips and Tools: Is There a Hole in Your Bucket?" as part of a 1.0 hour course in our learning management system.
Billing and Coding Tips and Tools: Is There a Hole in Your Bucket?
When: November 21, 2019 *Live*
12:00 - 1:00 pm ET
Where: Big Blue Button
Instructions to join:
1. Visit http://frontier.blindsidenetworks.net/frontier/
2. Select the "Clinical Outreach and Placement" room in the drop-down
3. Enter the password: NRHD2019
4. Once BBB loads, a pop-up will ask you to select "Microphone" or "Listen Only." You may choose "Microphone" if you would like to ask questions during the session. Otherwise, select "Listen Only" from the Pop-up box. You may use the chatbox during the session for questions or comments.
Presenter: Dr. Joan Slager, CNM, DNP, FACNM
Frontier Nursing University Dean of Nursing
The focus of this workshop is to present and discuss the process of coding and billing, including how to select correct CPT and ICD-10-CM codes and coding for complex patient encounters in order to accurately reflect services provided and enhance revenue.
Joan Slager, CNM, DNP, FACNM graduated from the Frontier School of Midwifery and Family Nursing in 1991 and completed her Master of Science in Nursing at Case Western University in 1993. She graduated from Oakland University in Rochester, MI with a Doctor in Nursing Practice degree in Dec. 2008. In 1993, she helped to establish Bronson Women's Service in Kalamazoo, Michigan which is now Michigan's largest midwifery service with 15 midwives. Dr. Slager practiced full-scope midwifery in this hospital-based collaborative practice and served as the practice director from 1995 through December 2016. She continues to work per diem in this practice. In January 2017 Dr. Slager joined Frontier Nursing University as the Program Director for the Doctor of Nursing Practice program. In March of 2018, she was appointed Interim Dean of Nursing, and in August accepted the position permanently.
Dr. Slager served 2 terms as Chair of the Business Section of the Division of Standards and Practice for the American College of Nurse-Midwives and 4 years as the Division Chair. She served 2 terms as the Treasurer on the ACNM Board of Directors. She has lectured extensively on billing and coding and other business and clinical topics. She was the ACNM representative to the Council on Patient Safety in Women's Health Care and served on the work group that developed the Maternal Safety Bundle addressing Severe Hypertension in Pregnancy.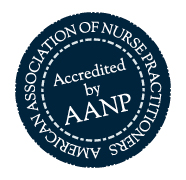 "This activity is approved for 1.0 contact hour(s) of continuing education by the American Association of Nurse Practitioners. Activity ID 19093883. This activity was planned in accordance with AANP Accreditation Standards and Policies."
Please note: Once you view the 'Billing and Coding Tips and Tools' session, you must complete the post-test/evaluation in order to receive credit for your contact hours. If you have questions about the completion of the activity or the form, please contact Stephanie.Boyd@frontier.edu

Improving Care through Drug Testing Education
November 21, 2019
9:00-10:00 am ET
Presenter: Estella Wetzel, MSN, APRN, FNP-C
Duke Johnson & Johnson Nurse Leadership Fellow
FNU Alumni
FNU Preceptor
A current literature search demonstrates strong evidence that prescribers lack knowledge in drug test result interpretation skills. This deficit spans the spectrum of all prescribers. Results of inaccurately interpreted drug test results includes: patient loss of appropriate pain/psychiatric management, loss of access to care through dismissal from practice; potential loss of job, familial problems including loss of child custody and relationship problems, and the potential for incarceration; increased prescription drugs of abuse available for trafficking, increased risk of drug abuse/misuse, overdose and death. By understanding results of the urine drug test, prescribers will be able to appropriately manage patients prescribed controlled medications, increasing safety for patient and community. This educational presentation breaks down commonly prescribed controlled medications by metabolites to simplify interpretation and addresses cross-reactivity with non-controlled medications to decrease inaccurately interpreted drug test results.
Estella Wetzel, MSN, APRN, FNP-C is a family nurse practitioner working with First Care Family Medical in Beavercreek, Ohio. Ms. Wetzel earned her bachelor's degree in nursing from Kettering College in Ohio, and master's degrees in Nursing Administration and Nursing Education from University of Phoenix in 2016. She earned her post-master's certificate as a family nurse practitioner from Frontier Nursing University in 2013. Ms. Wetzel has practiced in various clinics, including internal medicine, family practice, occupational health, campus health, integrated care providing primary care to patients within an established mental health facility. She believes that each experience has given her a more diverse background from which to continue a life of learning and to provide optimal care for each patient she sees. She frequently precepts nurse practitioner students and has assisted with the development of a nurse practitioner fellowship to ensure the confidence of nurse practitioners entering practice.
Ms. Wetzel is a current Fellow with the Duke Johnson & Johnson Nurse Leadership program.
Please share your feedback here

Rural Health Opioid Overdose Prevention
November 21, 2019
10:30 - 11:30 am ET
Presenter: Stacie Olson, DNP, PMHNP-BC
FNU Course Faculty
This presentation will discuss general information about opioid overdose, public health prevention strategies, and identification of FDA approved medication for treatment of opioid use disorder.
Stacie Olson, DNP, PMHNP-BC has a background in psychiatric nursing practice with specific expertise in working with vulnerable populations such as patients with substance use disorders and chronic mental illness. She has an understanding of access to mental health and substance use care in a rural state, with much of her current clinical practice experience in an integrated clinic. The work within this presentation builds on her current expertise and experience in the mental health care field and academia as it relates to mental illness and substance use disorders in a rural setting.
Please share your feedback here

Midwifery and Women's Health in the Last Frontier
November 21, 2019
3:00 - 4:00 pm ET *Live* session
Presenter: Ana Verzone, DNP, APRN, CNM, FNP-BC
FNU DNP Clinical Faculty
FNU Alumna
A presentation focusing on the unique challenges midwives face providing care for rural Alaskans and the Alaska Native Population.
Ana Verzone, DNP, APRN, CNM, FNP-BC is double board-certified as an FNP and CNM, working with rural populations since 2004. Currently living in Alaska, she works for the Rural Anchorage Service Unit at the Alaska Native Medical Center, where she provides primary, urgent, and emergency care in rural Alaska Native villages. Ana is also an Assistant Professor of Nursing at the University of Alaska, teaching clinical and didactic courses for FNP Master's and post-Master's DNP programs, and is developing an interdisciplinary course in Rural Healthcare to be offered for APRN, PA and medical students. Her doctoral project focused on rural emergency transports in Nepal.
Please share your feedback here
This program is supported by the Health Resources and Services Administration (HRSA) of the U.S. Department of Health and Human Services (HHS) as part of an award totaling $2,065,200. The contents are those of the author(s) and do not necessarily represent the official views of, nor an endorsement, by HRSA, HHS or the U.S. Government.