CEREMONY DETAILS
Who Can Participate?
Any FNU graduate whose degree was officially conferred since the previous year's Commencement is invited to participate. Current FNU students whose degree has not yet been officially conferred must meet the following eligibility criteria:
DNP students - Have either successfully completed or be enrolled in all remaining required DNP courses the duration of the summer term.

MSN & PGC students - Have a final passing grade (not an IP) in MH/NM/NP/WH 715 posted to the transcript AND Have either successfully completed or be enrolled in MH/NM/NP/WH 716 for the duration of the summer term AND Have either successfully completed or be enrolled in MH/NM/NP/WH 717 for the duration of the summer term.

Students earning multiple degrees from FNU may choose to participate in the Commencement ceremony after each degree or wait and participate once after all degrees are earned.
Venue
The ceremony will take place in the Bluegrass Ballroom on Level Three of The Lexington Center located at 430 West Vine Street in beautiful downtown Lexington, KY.

Click Here for driving directions and area map.
Click Here for detailed parking instructions.
Click Here for Accessibility information.
It is recommended that event attendees use the High Street entrance and follow directional signs placed for FNU event guests.
When To Arrive?
Graduates are asked to arrive between 10 am - 11 am (EST) for check-in. After checking in, please proceed to the graduate dressing area for final preparations and lineup instructions.The ceremony will begin promptly at 12 pm and is anticipated to last approximately 2.5 hours. Graduates and their guests along with faculty and staff will be invited to remain for an informal "Meet and Mingle" time immediately following the ceremony.
Keynote Speaker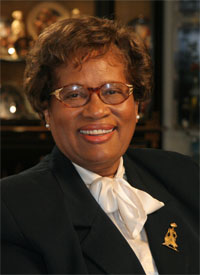 We are honored to have Dr. Joycelyn Elders join us to deliver this year's commencement address. Dr. Elders served under President Clinton as the 15th Surgeon General of the United States. She was the first African American, and only the second woman given this prestigious appointment.
Dr. Elders served in the U.S. Army and was eventually comissioned as an officer in the Medical Specialist Corps. After resigning her military commission, Dr. Elders returned to her home state of Arkansas and built a successful medical practice.
Following her time as Surgeon General, Dr. Elders joined the University of Arkansas as a faculty researcher and professor of endocrinology at the Arkansas Children's Hospital.
Now retired from practice, she is a professor emeritus at the University of Arkansas School of Medicine and remains active in public health education.
You can read the full announcement here.