REGALIA
Note: Regalia (gown-hood-cap) must be worn when participating in our in-person Commencement ceremonies.
QUICK STEPS to choose and order your gown, hood, etc.:
View this MEASURING GUIDE for help with the sizing of gowns and caps.
See the "Regalia Buying Guide" below to decide which package you need. (CLICK HERE for a downloadable chart with enlarged visibility)

If buying a basic "Student Evolution" package (master or doctoral), go to Jostens.com then type "Frontier Nursing" in the "Find my school" toolbar. From there, go to "Graduation Caps & Gowns" and select "Student Homeship" to view and order your selected regalia package.
If buying from the "Fine Quality" line of products continue with steps 3 & 4, below:

Refer to this PRODUCT BROCHURE for image samples of "Fine Quality" packages.
Download and complete the Fine Quality ORDER FORM or Custom FQ ORDER FORM (if customizing your Fine Quality package). Completed order forms should be sent to our Jostens representative: Chris.Adkins@Jostens.com.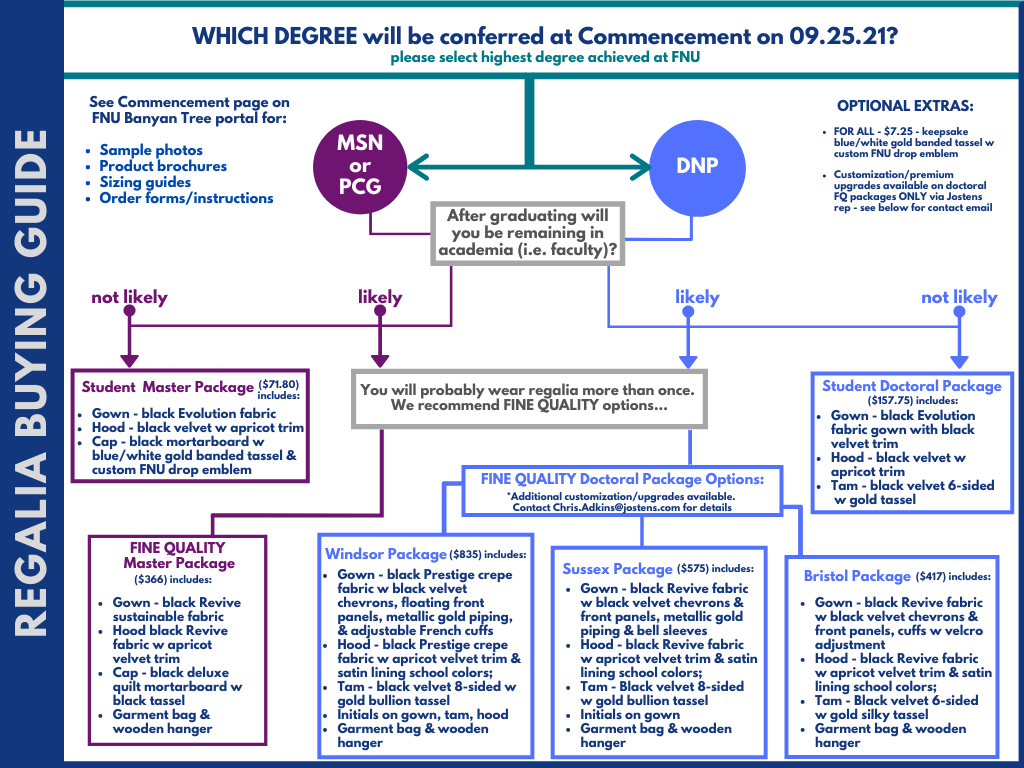 What IS "Custom Fine Quality" regalia?
Available only for the doctoral Fine Quality packages listed above, Custom FQ packages come with embroidered FNU-specific detailing on the front panels of the gown. Here's a sample photo (courtesy of our own Dr. Cathy Cook):

DIPLOMA FRAMES - please note these dimensions:
MSN diplomas measure 11x8.5 (a standard sheet of paper with landscape orientation). See image:
DNP diplomas - beginning with those who complete their degree in Spring 2020 or later, these diplomas now measure 14x11 (a large sheet of paper with landscape orientation). See image: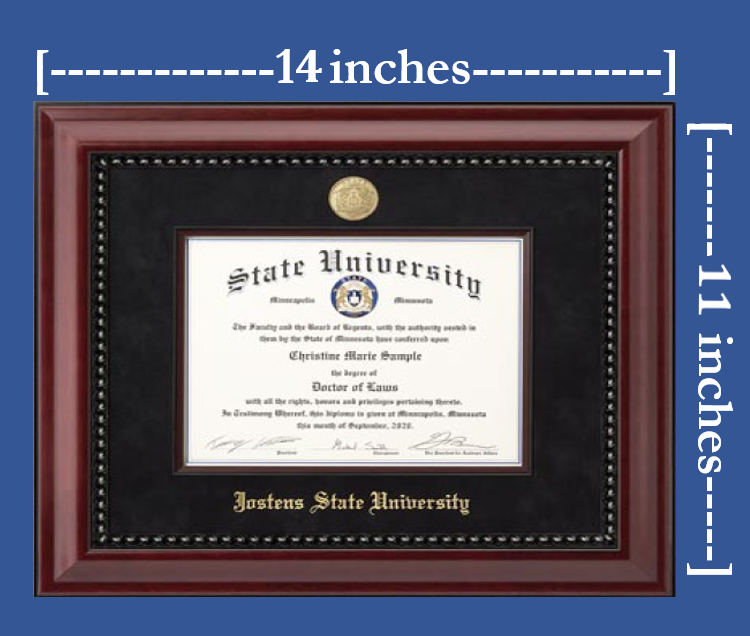 SPECIALTY CORDS
FNU Alumni Association - Click on the image below for further details:
U.S. Military Veterans
To order from Honors Graduation.com click on the image below (avg. price with shipping = $10)
Sigma Theta Tau International (STTI)
To order from Sigma Marketplace, click on the image below (avg. price with shipping = $34.00):