REGALIA
August 26, 2021 UPDATE: Since this year's ceremony will be held remotely, some have asked about the Jostens return policy. We reached out to them and they offered the following information:
If you ordered standard regalia (nothing customized from the "Fine Quality" line of products), and those items have not yet shipped, you can cancel your order for a full refund.
If your order has already shipped, you can return unopened packages for a refund (minus shipping).
To inquire further please contact Jostens Customer Service asap at 800-854-7464
_________________________________________________________________________________________________________
Regalia (gown-hood-cap) must be worn to participate in any of our in-person Commencement ceremonies. You should order at least 6 weeks before the event for on-time delivery (additional time may be required for custom orders).
We recommend purchasing from Jostens and have provided those details below. However, students may opt to purchase from any comparable vendor.
For information about Josten's line of products (caps, gowns, hoods, tassels, rings, etc.) please contact their Customer Service line at 800-854-7464.
DIPLOMA FRAMES - please note these dimensions:
MSN DIPLOMAS measure 11x8.5 (a standard sheet of paper with landscape orientation). See image:
DNP DIPLOMAS - beginning with those who complete their degree in Spring 2020 or later, these diplomas now measure 14x11 (a large sheet of paper with landscape orientation). See image: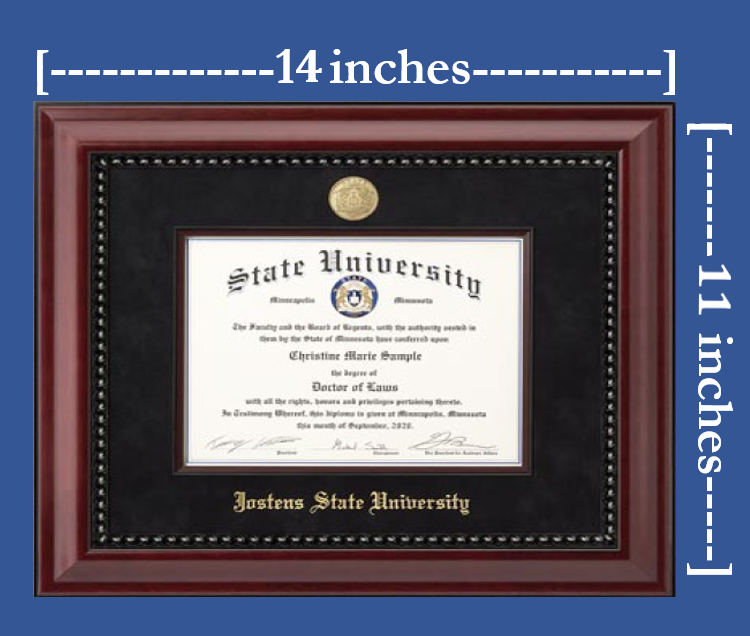 SPECIALTY CORDS
FNU Alumni Association - Click on the image below for further details:
U.S. Military Veterans
To order from Honors Graduation.com, click on the image below (avg. price with shipping = $10)
Sigma Theta Tau International (STTI)
To order from Sigma Marketplace, click on the image below (avg. price with shipping = $34.00):