Regalia & Cords
REGALIA
UPDATE: July 1, 2020 - We are aware that standard regalia (Masters and Doctoral packages) are currently not showing as available for purchase on the Jostens site. We're working with them to restore access to those products and have been told that by close of business on July 2, those items should be back up on the site and available for ordering.
They are also extending former regalia pricing that was said to be increasing on July 1 possibly.
Please Note: Regalia is NOT required to participate in this year's virtual ceremony.
KEY DETAILS:
**NEW** DEADLINE FOR ORDERING to ensure delivery by Aug 21: July 15, 2020 *For those who opt to wear regalia in the photo being submitted to FNU for the virtual ceremony*
To order, CLICK HERE to access the FNU product line on the Jostens website. This will take you to our Student 2020 Grad collection of products. From there, you will choose your regalia based on which degree you are receiving.

"Fine Quality Regalia" is available for those planning to become professionally involved within a university setting. These products come with a higher price tag but are more durable for longer wearability.
Updated ordering instructions as of 6/22/20 (when purchasing Fine Quality line of product):
To order, please follow this 3-step process: 1)Download and refer to BROCHURE and MEASURING GUIDE. 2) Download and complete this ORDER FORM. 3) Scan completed form and email to Chris.Adkins@Jostens.com or phone her at 859-240-4800. Ms. Adkins is our product representative and can answer your questions as needed.
For a limited time, Jostens is offering promo rates for FNU graduates. CLICK HERE for details.
Additional products are offered through the Jostens site listed above (diploma frames, announcements, class rings, etc.)
DIPLOMA FRAMES - please note these dimensions:
MSN diplomas measure 11x8.5 (a standard sheet of paper with landscape orientation). See image:
DNP diplomas - beginning with those who complete their degree in Spring 2020 or later, these diplomas now measure 14x11 (a large sheet of paper with landscape orientation). See image:
(July 29, 2020 Note: this purchase option is not currently listed on the Jostens site. We are working with the vendor to have this new optional product added.)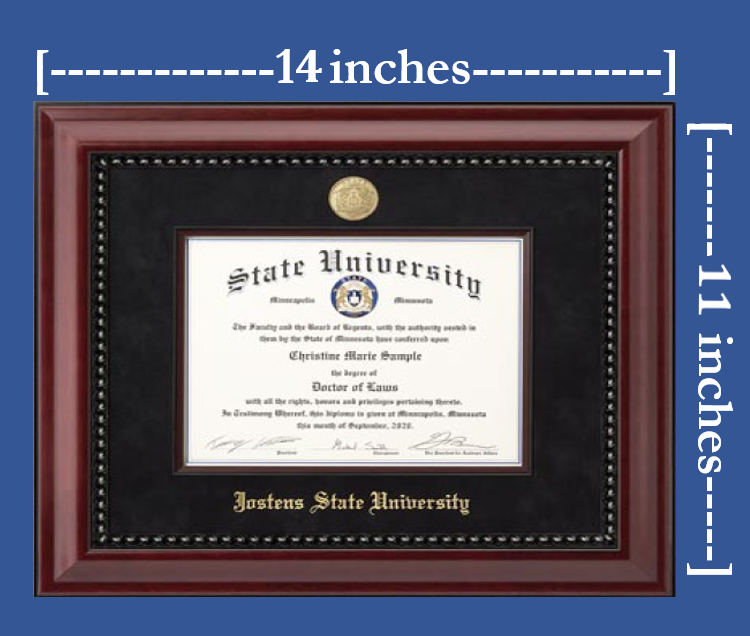 SPECIALTY CORDS
FNU Alumni Association - Click on the image below for further details:
U.S. Military Veterans
To order from Honors Graduation.com click on the image below (avg. price with shipping = $10)
Sigma Theta Tau International (STTI)
To order from Sigma Marketplace, click on the image below (avg. price with shipping = $34.00):