If you would like to nominate a great

preceptor, please

CLICK HERE

to

fill out the form!
Featured Preceptor
Ramona Scott, DNP, WHNP
Women's Care Group in Knoxville, Knoxville, TN
---
Terry Sims, FNP
Medical University of South Carolina, Great Falls, SC
Megan Ferguson, CNM
Mat-Su Women's Health Specialists, Palmer, AK
Sonja Furse, DNP, PMHNP
Mountain Home VA Healthcare System, Johnson City, TN
Cheyenne Brown, APRN, CNM
Seven Hills Women's Health Centers, Cincinnati, OH
Jessica Nagel, CNM
Sutter West Women's Health & Sutter Davis Hospital, Davis, CA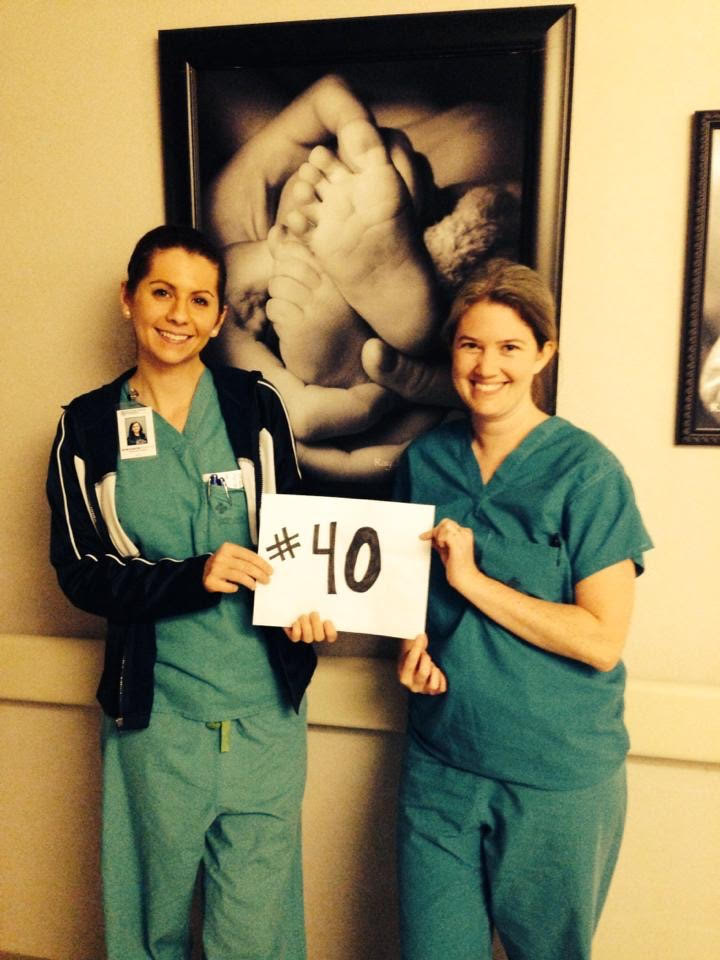 Recent graduate, Michelle Walker, celebrates
her 40th birth with our featured preceptor, Jessica Nagel (right)
SEPTEMBER 9, 2015 - We are delighted to announce Jessica Nagel, CNM, of Davis, CA as this summer's featured preceptor. Ms. Nagel, CNEP 47 and a 2008 graduate of Frontier, is a full scope nurse-midwife at Sutter West Women's Health and Sutter Davis Hospital. The patient population in this semi-rural community outside of Sacramento is very diverse. In addition, the Sutter Davis midwives share call with the Davis Community Clinic which is a Federally Qualified Health Center and serves a diverse, low-income, and uninsured/underinsured patient population. Michelle Walker, recent CNEP 99 graduate, enthusiastically nominated her former preceptor and praises her as committed to helping student nurse-midwives have a thorough, hands-on clinical experience [by] allowing her students to jump right in and learn by doing.

Ms. Nagel and other Sutter Davis midwives were recently featured in the new documentary, "The Mama Sherpas" about the growing movement of collaborative care between physicians and midwives. Ms. Nagel narrates the trailer and a quick shot of her working with a collaborative OB can be seen at the one minute mark. FNU is proud to call Ms. Nagel one of our graduates and we appreciate the good work she does on behalf of mothers and families.
Ms. Nagel will receive a Starbucks giftcard as a small token of our appreciation for her being a great preceptor.
---
LaTicia Tharrington, ANP

Warren County Free Clinic in Warrenton, NC
JUNE 11, 2015 - We are honored to announce that Ms. Tharrington, ANP, is this spring term's featured preceptor. She was nominated by RCF Denise Orrill and former student and 2014 graduate, Catina Rieves (FNP class 109). Ms. Tharrington recently purchased Primary Care of St. Pauls, NC, but had worked as the medical director at the Warren County Free Clinic in Warrenton, NC for over 10 years. Catina Rieves shares this touching tribute of her former preceptor:

Ms. Tharrington had a posting on EPNetwork offering to precept a nurse practitioner student. I remember interviewing with her; she had me shaking in my skin. This was my last clinical site, but the first one who interviewed me! I was sure that I got every question wrong. To my surprise she offered me a slot to work under her at the Warren County Free Clinic. Later, I would learn why she was so strict about the type of student that she accepted.
I understand the concept of understanding the disease process but Ms. Tharrington thinks you should be able to draw it! I call her the "patho junkie". She had a white board that she would love to draw diagrams on. You would be in the middle of a discussion and she would walk past you and go to the white board. The other student and I would silently cringe. We loved being there together for the two in one effect.
Another quality I loved about Ms. Tharrington was how she let her students take over the patient, and she would never rush us. When we presented the case, she would always say, "So what are you going to do?" If you decided to order a medication, she would nicely slide over her script pad. After you finished writing the script (so you thought), she would nicely slide over a new, blank one so that you could do it over, the correct way. How quickly you realize that electronic charting is a luxury.
At the Warren County Free Clinic, Ms. Tharrington was the sole provider for the uninsured of this county. Not only did you have to treat the patient and coordinate their care, but you also have to find a way to fund it. The population served here are in a rural county with a very high unemployment rate. I was honored to witness her struggle between remaining in this clinic and venturing off to open her own practice. In May 2015, Ms. Tharrington opened her own practice, realizing a lifelong dream.
Because of Ms. Tharrington's steadfast guidance, I have been able to convert my Registered Nursing position into one of an Advanced Nurse Practitioner with confidence. Today I am a Commissioned Officer with the United States Public Health Service stationed at the Federal Medical Center in Butner, NC.
Ms. Tharrington will receive a Starbucks giftcard as a small token of our appreciation for her being a great preceptor.

Susan Nilsen, CNM, and her Team of Nurse-Midwives
University of Texas Medical Branch in Galveston, TX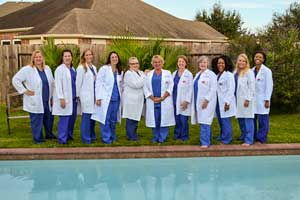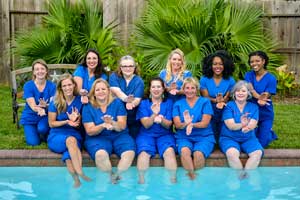 MARCH 11, 2015 - We are thrilled to honor not just ONE preceptor, but a family of preceptors at the University of Texas Medical Branch in Galveston, TX, as our featured preceptors this term. The UTMB team was nominated by course faculty member and former RCF Diana Jolles, RCF Niessa Meier, Clinical Credentialing Coordinator Jodi Dickey, and numerous students. For many years, UTMB has provided Frontier midwifery students with an incredible experience studying with part of their interprofessional team. Under the leadership of Frontier 1997 graduate, Dr. Susan Nilsen (CNEP class 12), students study with a team of incredible preceptors. Students benefit by learning to serve a marginalized population of women and families living in the Houston metro area. Students learn how to function as a midwifery leader within an academic teaching institution, mentoring medical students and residents. Within this setting, midwives function as attending providers, offering the students an opportunity to understand the importance and value of midwives within teaching hospitals.
To highlight the high quality precepting using examples from FNU students:
From Maud van de Wiele, CNEP class 83
"I love Susan Nilsen. She taught me more in 6 weeks than others could have in a lifetime. I am so proud to call her a friend and colleague but most of all mentor and teacher and I will forever be grateful for the experience."
From Carol Bohrer, CNEP class 77
"My primary preceptor in my IP clinical experience is Laureen Knorr. . .Under her tutelage, I have improved my skills exponentially, and my confidence has blossomed."
From Amy Beckmann, CNEP class 88
"Being with Laureen was a God send. When I started this midwifery journey, I did not understand nor appreciate out of hospital birth. . .I never had any intention of working anywhere other than in a hospital setting. . .Laureen made the transition to hospital remarkable for me. I have gotten to care for a large number of natural labor clients here at UTMB. Laureen is not overly aggressive with interventions which is incredible. Laureen made this site, my last stepping stone, doable!"
The UTMB team will receive several Starbucks gift cards as a small token of our appreciation for their wonderful service to FNU students.

Cherese Severson, DNP, FNP-BC
Saint Alphonsus Medical Group in Nampa, Idaho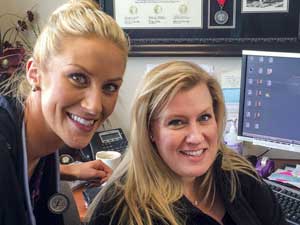 Dr. Severson (on right) is pictured here with FNP student Lindsey Wells, class 103.
DECEMBER 8, 2014 - We are thrilled to honor Dr. Cherese Severson, DNP, FNP-BC, of Nampa, ID, as our featured preceptor this term. Lindsey Wells, FNP student class 103, says that Dr. Severson "allows for a comfortable learning environment in which the student can flourish and gain confidence in their abilities to become a practitioner." Dr. Severson has been an advocate for independent practice not only in the state of Idaho, but nationwide. She is the co-chair of the Idaho Nursing Action Coalition (INAC), which advocates state and nationally for independent practice for APRNs. She has taken FNU students over the past 4 years and, as per her policy, only takes FNU students as she believes that, "FNU students are the best prepared when it comes to clinic." Recently Dr. Severson expanded her competency to include antepartum in part to assist FNU students in obtaining the required elements for this population.
Dr. Severson's lifespan care includes vulnerable and high risk patients. She regularly publishes health education articles in the Idaho Press Tribune on current topics that affect the public's health. Her roles and accolades are numerous and include AANP Idaho State Representative for 5 years, AANP NP Award for Clinical Excellence, publications in JAANP (The Journal of the American Association of Nurse Practitioners), and the first nurse practitioner speaker for the International Congress of Obstetrics and Gynecology, held in Dalian, China in 2013, among others.
Amanda Dozier, FNP student class 113, says that Dr. Severson "goes above and beyond the call of duty for her preceptees. These extras include a dermatology procedures day hosted at her home for area FNU students. She is encouraging, complimentary, and loves to educate her students. Yet, she provides suggestions for improvement and helps us think through our assessments and our plans to be sure we aren't missing anything. She's willing to give us our wings while providing a soft landing place if we fall. She is truly one of a kind."
Dr. Severson will receive a Starbucks gift card as a small token of our appreciation for her being a great preceptor.
Amber Evans, MSN, CNM
The Women's Center Ob/Gyn in Pennsylvania

SEPTEMBER 12, 2014 - We are thrilled to honor Ms. Amber Evans, CNM, of Coatesville, PA, as our featured preceptor this term. Ms. Evans, CNEP Class 55, is a 2009 graduate of Frontier. Ms. Evans was nominated by one of her students, as well as RCF, Ms. Metta Cahill, and Program Director of Midwifery and Women's Health, Dr. Tonya Nicholson. Ms. Evans was recognized in Denver at ACNM's annual meeting as FNU's midwifery preceptor of the year. Ms. Evans has always been willing to precept FNU students, even those who have had an unsatisfactory experience in a previous clinical site and arrive feeling insecure and lacking confidence. Ms. Evans has been described as warm, respectful, fair, consistent, and flexible. She is welcoming from the start and remains patient, supportive and encouraging. She has high expectations of students and communicates those clearly. She challenges their medical knowledge with queries such as "What do you want to do here?" and keeps them on their toes in a friendly way, and provides the hands-on clinical opportunities to learn procedural skills. If the student is not performing as expected, she is also not afraid to address the issue. She alerts the University and the student to the pertinent issues, helps the student identify a plan of remediation and remains open to improved student performance.
We all remember significant mentors in our own lives. There is no doubt that Amber Evans will always be remembered by those who have been fortunate enough to learn under her expert tutelage. Ms. Evans will receive a Starbucks gift card as a small token of our appreciation for her being a great preceptor.