The Courier Program Public Health Internship is sponsored by Frontier Nursing University that places students with rural public health clinical sites in an observation setting. The program is hybrid and divided into two components: Distance learning and In-person observations.
Distance learning will be comprised of a summer reading book and community health assessment project. Students will present their community health assesment findings before arriving to the Frontier Nursing University campus halfway through the program.
During their time on site, students will shadow a variety of clinicians. Clinical sites can range from observing the county health department, home healthcare, midwifery clinics, and much more. Before students finish the program, they will be asked to present a project that takes their first health assessment and compares it to their time with Frontier Nursing University in Woodford County, Kentucky.
These two componets together will allow students to gain knowledge and understanding of the definition of rural and public health and what it means to provide healthcare services to underserved communities.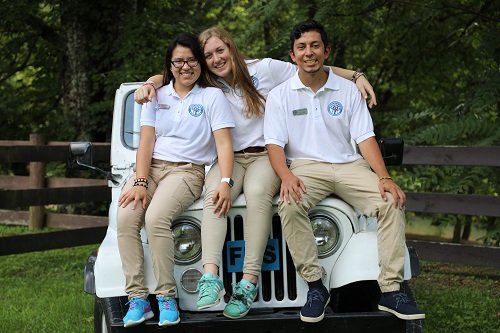 The Courier Program has a "Hearts On, Hands Off" approach to learning. Students learn by observing their clinic site mentors, speaking with patients, and assisting with special projects, such as working at health booths, creating brochures on health-related topics, leading events, and other meaningful activities. Couriers may participate in any activity that does not require formal medical or healthcare training. Couriers leave with a profound understanding and deep respect for the communities they serve during their time as a Courier.
Former Couriers share that their experiences were eye opening and adventures of a lifetime. Don't miss out on this incredible experience!
Please explore the side tabs to find out more about the Courier Program.