Frontier Nursing University (FNU) recognized the need to increase diversity within the nursing and midwifery professions, and in 2010, set out to increase enrollment of underrepresented students. In 10 years, FNU's students of color population has increased from 9% to 27.8%.
FNU's first step was developing the Diversity PRIDE (Promoting Recruitment and Retention to Increase Diversity in Nurse-Midwifery and Nurse Practitioner Education) Program. Today, the initiative is known as the Diversity Impact Program.

The Diversity Impact Program is designed to assist in promoting inclusive learning and workforce environment at FNU, with a goal to increase diversity in the nursing and midwifery professions by recruiting and retaining underrepresented students and employees. It is through this growth and progress that FNU has been nationally recognized for preparing nursing and midwifery students to meet the healthcare demands of an increasingly diverse patient population.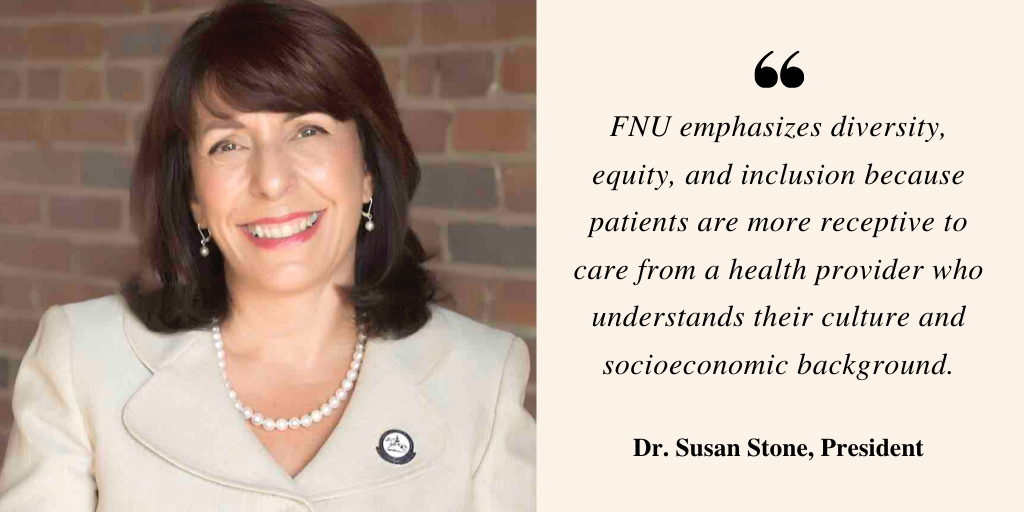 OFFICE OF DIVERSITY, EQUITY, AND INCLUSION
The Diversity Impact Program is now a part of the Office of Diversity, Equity, and Inclusion (DEI) which was formed in 2018. The goal of FNU's Office of DEI is to ensure students, faculty, and staff are provided with an environment that promotes DEI and encourages the success of all community members.
The Office of DEI encompasses an atmosphere built on a culture of caring. The Office of DEI solicits the equitable perspectives of students, faculty, and staff regardless of race, gender, sexual preference or identity, disability, and/or religion. In congruence with FNU, the mission of the Office of DEI is to provide accessible nurse-midwifery and nurse practitioner education to prepare competent, entrepreneurial, ethical, and compassionate leaders in primary care to serve all individuals with an emphasis on women and families in diverse, rural and underserved populations.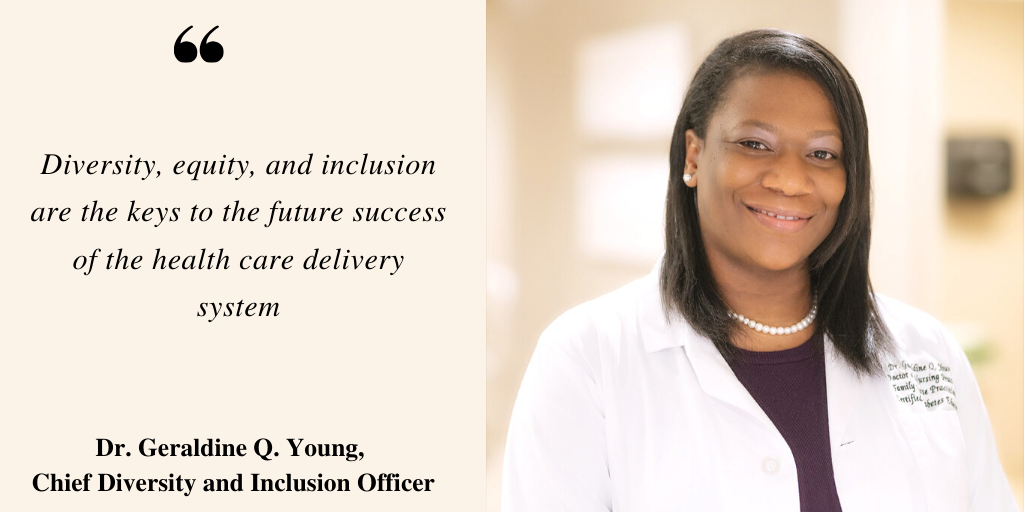 DIVERSITY IMPACT PROGRAM ​​​​​ACTIVITIES
Diversity Impact Conference
FNU's Office of DEI recently hosted the 10th annual Diversity Impact Conference, "Year of the Nurse and Midwife 2020: Increasing Diversity, Equity, and Inclusion," June 11-13, 2020, as a virtual event due to the COVID-19 Pandemic. This year marked a decade of bringing together national thought-leaders and speakers to engage with the FNU community on important topics facing the nursing and midwifery workforce.
FNU's annual Diversity Impact Conference is open to all students and alumni who want to become a part of FNU's legacy of providing care to rural and underserved communities. This event helps jump-start nurses in preparing to enhance collaborative patient/provider relationships in the care of diverse patient populations. The event generally increases the awareness of DEI among the FNU community. The Diversity Impact Conference is free to all FNU students, alumnus, faculty and staff.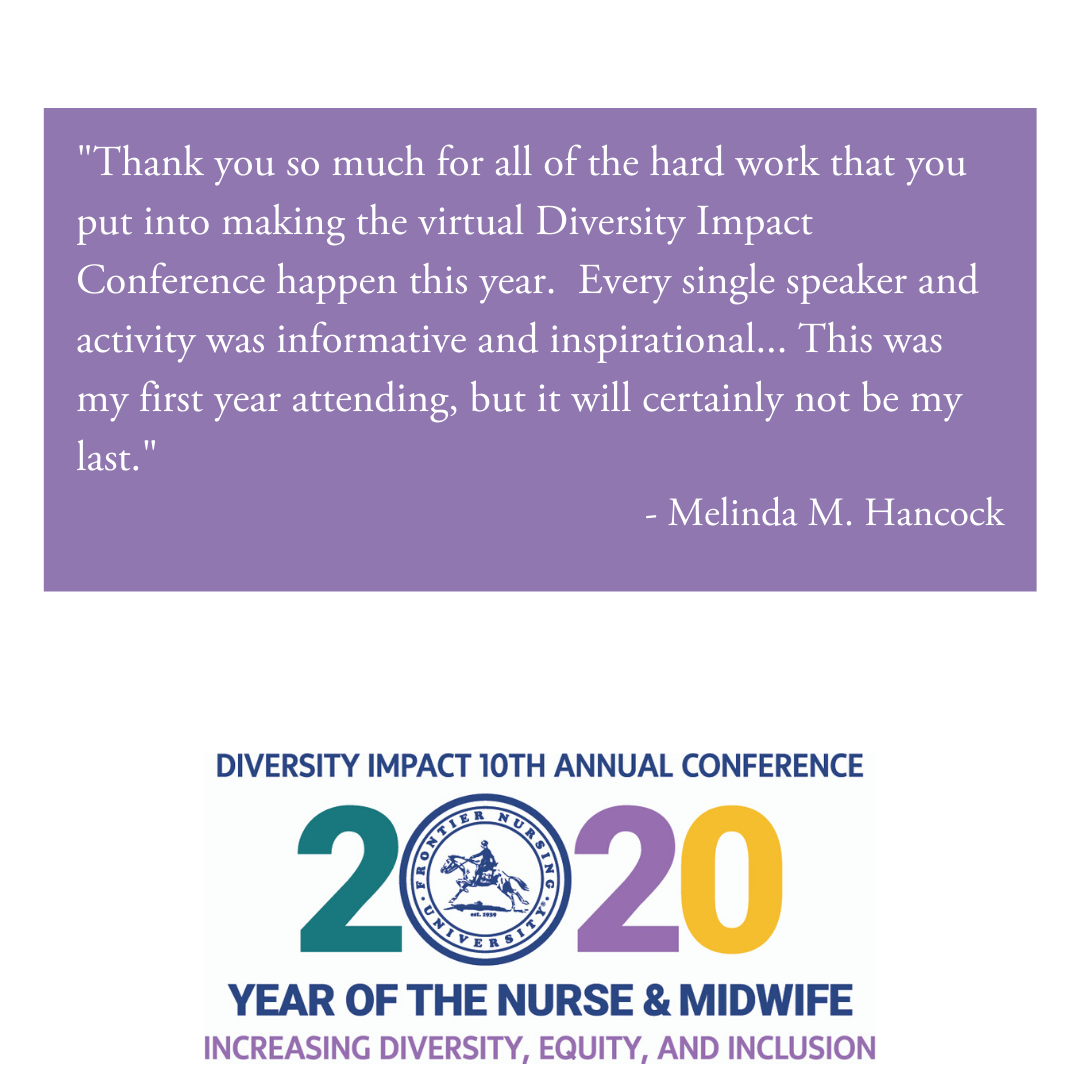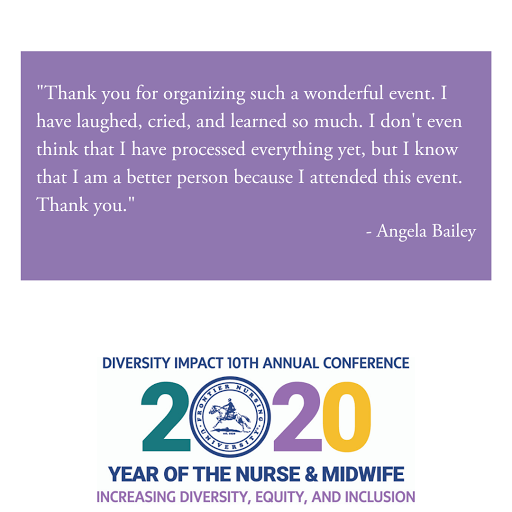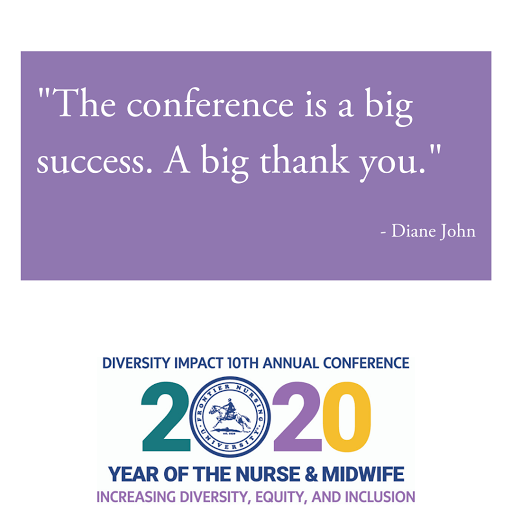 Diversity Impact Quarterly Speaking Series
FNU's Diversity Impact Program Quarterly Speaking Series opens the door for our students and employees to become global thinkers and healthcare leaders within their communities. The series includes discussions on cultural awareness and inclusion to enhance each student's experience to better serve diverse populations with confidence and ease. The series offers a unique aspect of shared perspectives that promote cross-cultural learning among students and their peers, along with the overall pursuit of academic success as a student-learner.
National Diversity Conferences and Events
Each year, FNU's Office of DEI - Diversity Impact Program represents the University at nursing events around the U.S. FNU highlights the diversity program at several professional conferences through presentations, networking, exhibits, and recruitment of underrepresented students and employees. Students are given the opportunity to attend conferences as Student Ambassadors. With the availability of the Professional Organization Mentoring Program (POMP) and Comprehensive Mentoring Program Pilot, the Office of DEI also provides mentoring services for underrepresented students at professional conferences and offers academic and professional support for students. These activities are intentional to bring awareness to the need for DEI in nursing. If you are interested in becoming a faculty mentor or student mentee for POMP, please click here.
Memberships
To keep abreast of the latest activities of the Diversity Impact Program and provide a voice in DEI at FNU, join the Diversity Impact Facebook Group or the Diversity Impact Ad Hoc (DIPA) Committee. The Diversity Impact Facebook Group provides a safe space for DEI support at FNU. The group consists of faculty, staff, and students. The DIPA Committee is responsible for planning the yearly Diversity Impact Conference. In the coming year, 2021, we plan to add students to the DIPA Committee. Join us!
Diversity and Inclusion Committee
Students have the opportunity to join the Diversity and Inclusion Committee on a yearly basis. This committee consists of faculty, staff, and students. Contact the Office of Diversity, Equity, and Inclusion if you are interested in joining the Diversity and Inclusion Committee.
Purpose/Overview of the Diversity and Inclusion Committee
The Diversity & Inclusion Committee develops, promotes, and provides programs and resources to enhance diversity throughout the university and healthcare workforce.
Functions
Recruit and retain students, faculty, and staff representative of the diverse communities in which they live and will serve.
Provide opportunities and resources for students, faculty, and staff to enhance an understanding of diversity and inclusiveness.
Promote the advantages of a culturally diverse and inclusive workforce to improve the delivery of healthcare.
Encourage innovative approaches to culturally competent client care.
Support mentoring and leadership development needs of diverse populations within the FNU community.
Advocate for legislative initiatives to foster increased diversity within healthcare.
Foster collaborative relationships with other institutions and agencies to promote diversity and inclusion.
Recruit, retain, and graduate more students of color (non-white) to help combat overall health disparities.
Secure resources to support these stated functions.
All Diversity and Inclusion Committee activity falls under FNU Shared Governance. There is an annual election each year for all committee openings. According to Diversity and Inclusion Committee membership bylaws, those persons whose terms end in 2020, will reflect open positions for election next year. Faculty staff council prepares the ballots that go out annually for all committee positions. Faculty and staff indicate an interest and votes are decided.
Students volunteer for their positions on the Diversity and Inclusion Committee. They are not elected. Advertisement for the recruitment of student members is typically dispersed to the FNU student community.
NATIONAL RECOGNITION
FNU is a national leader in DEI and a four-time winner of the INSIGHT Into Diversity "Higher Education Excellence in Diversity (HEED) Award (2018-2021). FNU is also a recipient of the Health Resources and Services Administration (HRSA) Nursing Workforce Diversity (NWD) Grant.