"At Frontier Nursing University we oppose injustice and cruelty and condemn racism in all its forms. We support peaceful protests and demonstrations and join all those working to end systemic racism, racial violence, and police brutality. We are committed to building a culture that is inclusive and caring for all."
~Dr. Susan Stone, FNU President~
Diversity, Equity, and Inclusion at Frontier Nursing University
The goal of the Frontier Nursing University (FNU) Office of Diversity, Equity, and Inclusion (DEI) is to ensure students, faculty, and staff are provided with an environment that promotes DEI and encourages the success of all community members. The Office of DEI promotes educational equity that leads to health equity. "We want everyone to feel they belong at FNU," stated Dr. Geraldne Young.
The Office of DEI encompasses an atmosphere built on a culture of caring. The Office of DEI solicits the equitable perspectives of students, faculty, and staff regardless of race, gender, sexual preference or identity, disability, and/or religion. In congruence with FNU, the mission of the Office of DEI is to provide accessible nurse-midwifery and nurse practitioner education to prepare competent, entrepreneurial, ethical, and compassionate leaders in primary care to serve all individuals with an emphasis on women and families in diverse, rural, and underserved populations. As stated by Dr. Geraldine Q. Young, the Chief Diversity and Inclusion Officer, "Diversity, equity, and inclusion are the keys to the future success of the healthcare delivery system."
FNU is a national leader in DEI and a three-time winner of the INSIGHT Into Diversity "Higher Education Excellence in Diversity (HEED) Award 2018, 2019, and 2020." FNU is a recipient of the Health Resources and Services Administration (HRSA) Nursing Workforce Diversity (NWD) Grant. The NWD Grant provides opportunities for FNU to recruit and retain underrepresented groups; offer support (e.g., scholarhships and selected tutoring and writing services); disseminate diversity, equity, and inclusion trainings, etc. For more information about the NWD Grant, contact the Office of DEI. With the full implementation of the Office of DEI, FNU continues on the trajectory of increasing DEI in nursing.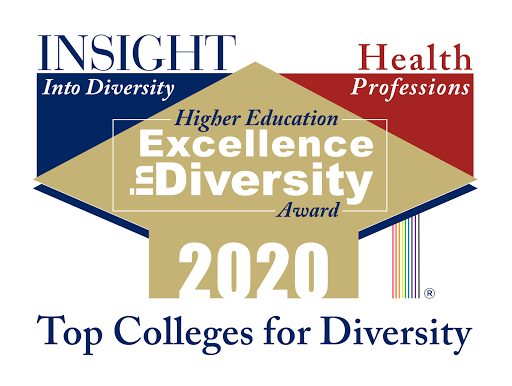 The Office of DEI recently held the 11th Anniversary Diversity Impact Conference, "Dismantling Racism and Discrimination in Healthcare: Our Roles and Responsibilities", June 24-26, 2021. Due to the COVID-19 Pandemic, the conference was held virtually. The resources ascertained at the conference will be disseminated over time to provide DEI training for facutly, staff, and students. For more information, contact the Office of DEI @ diversity-inclusion@frontier.edu or click on the drop down on Get involved, then Past Events. To discover more about the Diversity Impact Program, simply click on the graphic below.