Are You Registered Yet?

DIVERSITY IMPACT EVENT
The Diversity and Inclusion Office at Frontier Nursing University (FNU) is hosting its 11th annual Diversity Impact Conference, June 24-26, 2021, as a virtual event on the Zoom platform. The year will mark over a decade of bringing together national thought-leaders and speakers to engage with the FNU community on important topics facing the nursing and midwifery workforce.
The event opens the door for nurse practitioner and nurse-midwifery students to join FNU faculty and staff in collaborative discussions, address health disparities, and find proactive solutions to improve minority health among underrepresented and marginalized groups.
The annual Diversity Impact Conference is open to FNU students, alumni, faculty, and staff who want to become part of FNU's legacy of providing care to rural and underserved communities. Those that participate will engage in cross-cultural activities and intercultural workshops, along with nurse-leadership strategies on how to effectively care for diverse populations within their communities.
This year's three-day virtual conference is expected to unite more than 100 FNU students, alumni, faculty, staff, and community leaders, and will include:
Sessions hosted by nationally recognized nursing leaders

Cross-cultural activities and intercultural workshops

Team-building exercises, cultural competency awareness training, and open dialogues

Networking with FNU students, alumni, faculty, and staff to strengthen collaborative discussions

Nurse-leadership strategies and much more!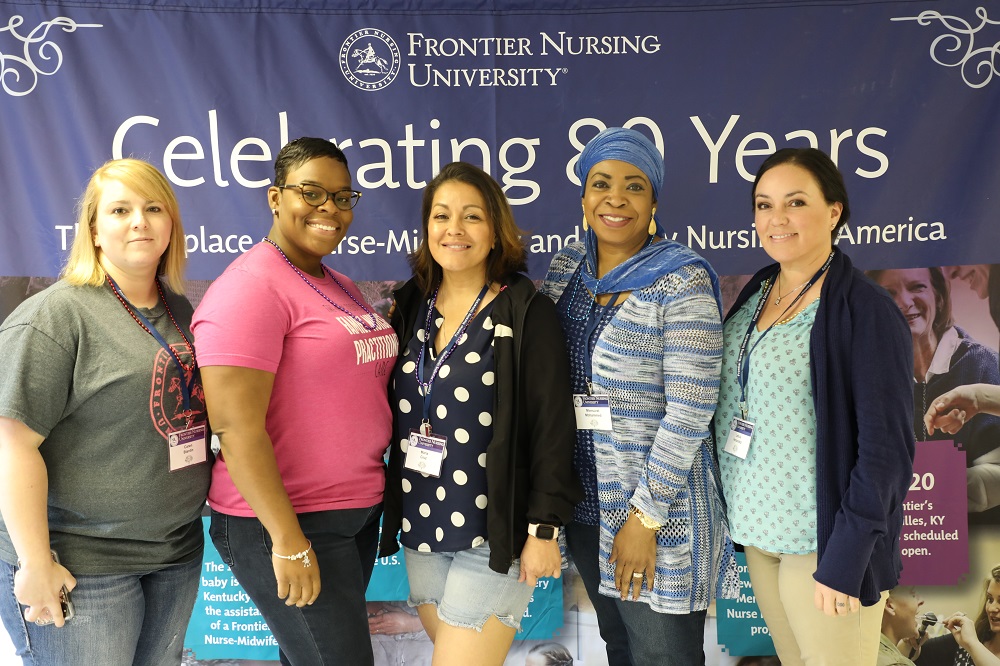 Click Here to learn more about FNU's Diversity Impact!


Coronavirus Preparedness and Updates
Frontier Nursing University is committed to keeping everyone in our community informed regarding the coronavirus (COVID-19), both in terms of how to help prevent the spread of the virus and what actions FNU is taking. On this website, we will share updates and information pertinent to the entire FNU community. We are committed to the health and safety of the FNU community and are working in alignment with local, state, and national agencies and government to actively and responsibly respond to this public health threat.

FNU remains open during the COVID-19 pandemic and will continue to accept applications to our distance education programs. please access the Application Deadline page for the next application deadline.
Frontier would like to congratulate our
Winter 2021 DNP Graduates!
| | |
| --- | --- |
| • Lauren Agner | • Francis Aho |
| • Ayanna Artis | • Monica Benjamin |
| • Elizabeth Birkey | • Kimberly Broughton-Miller |
| • April Campbell | • Kathryn Capan |
| • Yina Cruz | • Akosua Darkwah |
| • Lisa Dunton | • Gaelle Duvivier |
| • Eric Efuetngu | • Christina Felten |
| • Sylvia Garnicasoto | • Thomas George |
| • Sarah Gill | • Megan Hackl |
| • Anthone Jeon | • Kimberly Jones-Beatty |
| • Brenna Kirsch | • Lawanda Mann |
| • Bianca Mcclammy | • Emilie Mclain |
| • Sally Mcnally | • Lauren Nabiyev |
| • Christina Newsome | • Patricia Newton |
| • Natachele Oscar | • Stephanie Panagiotu |
| • Kielee Pelland | • Angela Price |
| • Alison Reid | • Robert Reynolds |
| • Cory Rogers | • Marie Stanley |
| • Courtney Subudhi | • Lily Tung |
---