Welcome to Week 2 of the 2017 Winter Term!
---

---

Welcome Kathleen Gardner Iorillo!
Kathleen (Kathy) Gardner Iorillo will be employed as Course Faculty on January 15th. Kathy received her Family Practice Post Master's Certificate from Frontier Nursing University in 2009 and her DNP in 2014. Kathy was also a prior Instructor for Frontier in 2014-2015, Regional Clinical Faculty in 2011-2014 and Course Faculty in 1997-1999.
---
Frontier would like to welcome the following students to campus for Clinical Bound!
• Kayla Aiken
Class 139
CNEP
• Lauren Albu
Class 140
CNEP
• Jonelee Badua
Class 131
CFNP
• Joshua Barnes
Class 142
CFNP
• Holly Borkert
Class 134
CNEP
• Paula Brandt
Class 136
CNEP
• Jocelyn Carver
Class 140
CFNP
• Xue Hua Cody
Class 130
CNEP
• Nicole Crystal
Class 140
CFNP
• Lisa Davis
Class 131
CNEP
• Erin De Tura
Class 134
CNEP
• S. Dowdle
Class 133
CNEP
• Andrea Edgerly
Class 140
CFNP
• Margaret Galvez
Class 137
CFNP
• Virginia Geddes
Class 126
CNEP
• Whitney Graves
Class 139
CFNP

• Deepa Hague
Class 136
CFNP

• Erin Hayden
Class 134
CFNP/td>
• Stephanie Hensley
Class 140
CFNP
• Krista Hobson
Class 131
CFNP
• Allison Kennedy
Class 137
CFNP
• Lindsay Koser
Class 122
CNEP
• Michelle Lacy
Class 139
CNEP
• Jenkins Lawhorn
Class 142
CNEP
• Kristin Lubell
Class 125
CFNP
• Heidi May
Class 136
CNEP
• Jessica Nelson
Class 148
CNEP
• Alison Neufeld
Class 131
CNEP
• Phiyen Nguyen
Class 136
CFNP
• Brandi Pearson
Class 151
CFNP
• Barbara Purnell
Class 129
CNEP
• Elizabeth Reinholt
Class 129
CNEP
• Kelly Richardson
Class 123
CFNP
• Melinda Roberts
Class 133
CNEP
• Ritamarie Testa
Class 136
CNEP
• Susan VanZandt
Class 128
CFNP
• Lydia Weider
Class 140
CNEP
• Emily Zolten
Class 123
CNEP
---

Congratulations!
Congratulations to Dr. Sharon Weyer on the following publication:
Weyer, S. M., Cook, M. L., & Riley, L. (2017). The direct observation of nurse practitioners care study: An overview of the NP/patient visit.
Journal of American Association of Nurse Practitioners 29, 46 – 57.
---
FNU Blog!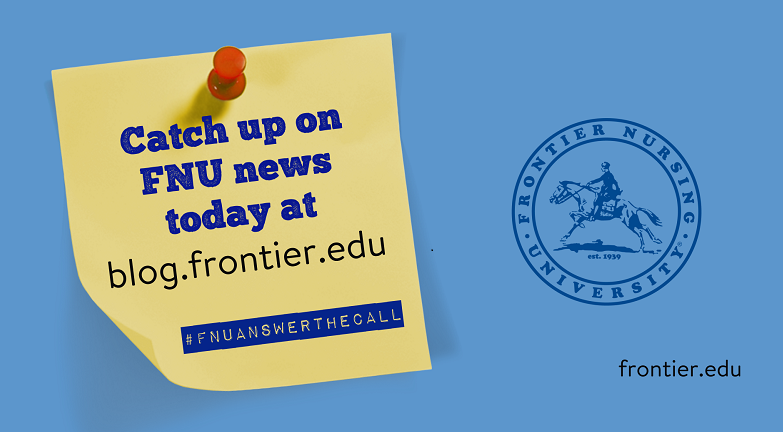 ​The latest stories on the FNU Blog include:
Alumni Spotlight on Jan Stalder, APRN, FNP-BC
​Answer the Call: #GivingTuesday
Holiday Open House
2016 Highlights
​As always, if you have news to share, write us at FNUnews@Frontier.edu.
---

G Suite Training!
Please take a few minutes to get familiar with the new G Suite Learning Center made available for you to find the training you need to communicate, store, and collaborate using all of Google's applications. There is a great Chrome extension that offers simple and interactive training lessons on Gmail, Calendar, Sheets, Slides, and Docs. Lastly, take a few minutes to visit the G Suite Training Videos and watch the great training content on all of Google's products!
---

Welcome April Tabor!
April will begin her employment as Data Reporting Administrator with Frontier on January 3rd. She has fourteen years experience as an IT professional. She received her BBA, Business Information Systems from Morehead State University. She is currently enrolled in a Master's degree program in Technology Management with Morehead State University.
---

Welcome Vicki Ellison Burns!!
Frontier would like to welcome Vicki Ellison Burns. Vicki will be starting January 3rd as course faculty. Vicki received her Ph.D in Nursing from the University of Missouri-Columbia. Her activities and organizations include, Sigma Theta Tau International Nursing Honor Society, Midwest Nursing research Society, ANCC, Kentucky Coalition of Nurse Practitioners and Nurse Midwives, KNA, PhD Representative to the Dean's Advisory Council, University of Missouri-Columbia, Kentucky Holistic Nurses Association, American Holistic Nurses Association and SAFE-CARE Advisory Council for the state of Missouri.
---

Congratulations Contest
Winners!
Congratulations to the Diversity PRIDE Student Ambassadors and Essay Contest winners for 2016! Students represented FNU and the Diversity PRIDE program at national nursing conferences like the National Black Nurses Association (NBNA), the National Association of Hispanic Nurses (NAHN), American Assembly for Men in Nursing (AAMN), and many more conferences across the country.
FNU's Diversity PRIDE Program also hosted four essay contests this year. The annual essay contest is an initiative aimed at fostering student-leadership retention, increasing scholarly writing, professional networking and continued nursing education. Click here to view PRIDE Student Ambassadors videos.
---
Happy New Year!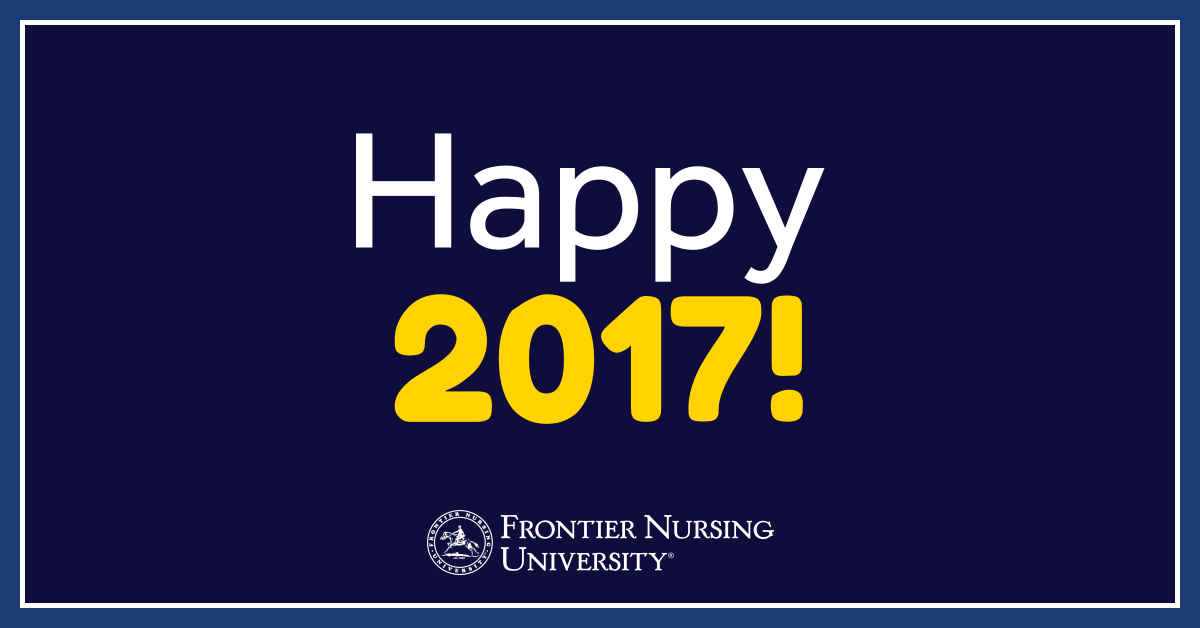 In case you missed it, click here to take a look back on 2016 and some of our highlights from​ the year. We are looking forward to what 2017 holds for Frontier Nursing University and YOU! Do you have a story you would like to see featured on our blog? We would love to hear more -- email us today at FNUnews@frontier.edu.
---
Fall 2016 Course Evaluations Deadline Extended!
The deadline to complete the course evaluations for Fall 2016 has been extended to midnight Eastern Standard time tonight (December 20). In order to complete your course evaluations, log on to the portal page, click on APPS, then click on Tk20. Your course evaluations will be listed under pending tasks.
---

Featured Preceptor!
Congratulations to Erin Crone, FNP, on being our featured preceptor this fall! Ms. Crone has been providing pediatric primary care for nearly seven years to an urban population in the Georgetown neighborhood of Washington, DC. Ms. Crone was nominated by former student, Marzi Viverette, and faculty member, Dr. Amy Nassar. Please read the full story here.
---
Attention Students!
The book lists for your 2017 Winter Term courses are now available at the bookstore!
---
Seeking Proposals!
9th Annual Virtual International Day of the Midwife
Starting 4th May 2017 at 22:00 UTC
24 hours of free online presentations for and about midwives
For more details Click Here.
---
Read the newest stories on the FNU blog!
---
Alumni Magazine and Summer 2016 Quarterly Bulletin are now available!
An Alumni Magazine is now available. Click here to view.
The Summer 2016 Quarterly Bulletin is now available. Click here to view.
---
Update your FNU Email Signature
All students, faculty and staff should follow the instructions at the link below to update your FNU email signature. Thank you in advance for helping us ensure consistency and improved communication across our FNU community.
Instructions to Update Email Signature

---
AN EXCITING OPPORTUNITY FOR ALL CNEP STUDENTS!!!
FNU now has an agreement with DREXEL (PHILADELPHIA) for FREE OB SIMULATION labs-
Here are the details:
Students pay for transportation and accommodations. The lab experiences and breakfast/lunch and snacks are provided for FREE.
Please contact Dr. Jane Houston for more information (jane.houston@frontier.edu)
CLICK HERE TO SEE THE DETAILS REGARDING 2017 DATES.

---