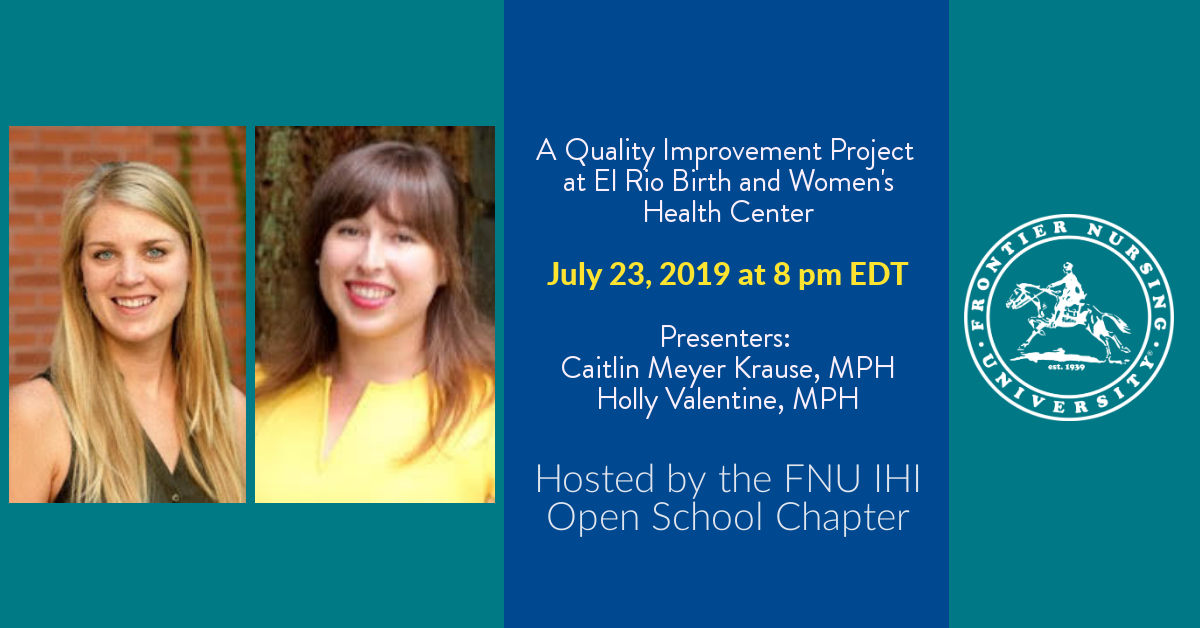 Dear Faculty, Students, and Alumni,
You are invited to the Summer 2019 FNU IHI Open School Chapter webinar to
be held July 23 at 8 pm.
We are proud to welcome co-presenters Caitlin Krause, MPH, and Holly
Valentine, MPH, who will share their story of maternal health care quality
improvement at the El Rio Community Health Centers in Tucson, Arizona.
Join us for an inspiring and challenging presentation!
*Click to Add this Event to Your Google Calendar *
To participate, follow these instructions on the day of the event:
1. Join us in Big Blue Button
http://frontier.blindsidenetworks.net/frontier/
2. Enter your full name
3. Select classroom as "IHI"
4. Enter password: IHI2019
-------------------------------------------------
What is IHI? IHI is an organization dedicated to quality improvement,
health-care leadership, decreasing healthcare cost, and population health.
Founded officially in 1991, the organization is recognized globally for
these efforts.
What is Open School? Open School is a global community of like-minded
individuals with courses, networks and training. What is the Frontier
Chapter? Our chapter is a FREE club for the Frontier Community to support
each other with activities to address population health, healthcare cost
and leadership. We will hold activities throughout the year to come
together; then carry our knowledge back to our home communities.
* Want more info or how to get involved? Email
janelle.komorowski@frontier.edu
Learn more now at www.ihi.org/education/ihiopenschool