null
2022 Diversity Impact Conference June 28-29, 2022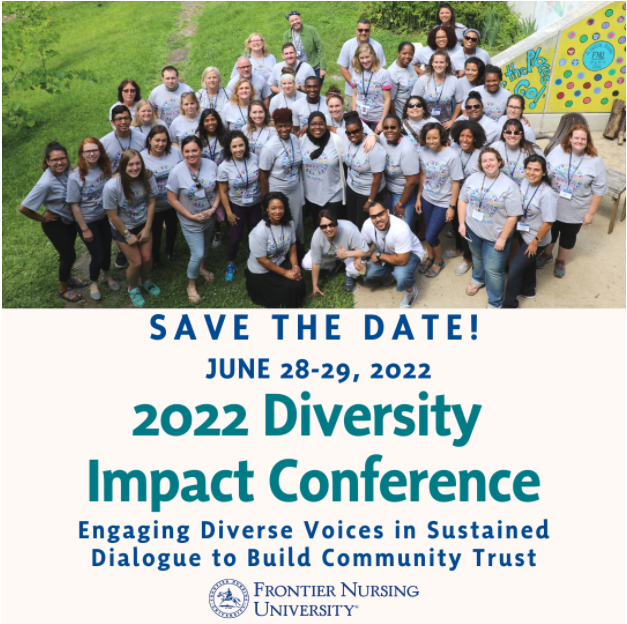 Dear Faculty, Staff, and Students,
Great news! The Frontier Nursing University (FNU) Diversity Impact Planning Ad-hoc (DIPA) Committee is proud to announce that the Diversity Impact Conference "Engaging Diverse Voices in Sustained Dialogue to Build Community Trust" will be held on June 28-29, 2022, on the Zoom platform! FNU is extremely excited about this year's conference. The DIPA Committee has been diligently working to plan an innovative, interactive, online version of the conference. Registration is open for the virtual event, so please reserve your spot today.
Once registration is complete, you will receive an email verifying your registration. Stay tuned for more updates on the conference!
Frontier would like to congratulate our Winter 2022 DNP Graduates!
| | |
| --- | --- |
| • Trisha Bruns | • Signey Olson |
| • Susan Bennett | • Julia Paulus |
| • Keyshla Moreno | • Jennifer Francisco |
| • Amanda Watson | • Julie Riley |
| • Alyssa Monsivais | • Shanna Creighton |
| • Cherilyn Marrs | • Erika Adams |
| • Sarah Logan | • Nadya Bolgova |
| • Brianna Gregoire | • Amanda Bell |
| • Doreen Thomas-Payne | • Yalanda Scalf |
| • Elizabeth Cole | • Nina Chandler |
| • Daphne Pontius | • Kristen Pierce |
| • Kandyce Brennan | • Sierra Payton |
| • Bronwyn Gorgone | • Bryan Jaye |
| • Melissa Goldschmidt | • Lucretia Daniel |
| • Nicole Shaheen | • Jeremy Graham |
| • Elizabeth Akinyemi | • Salina Womack |
| • Rachel Pierce | • Katie Depalma |
| • Adrienne Salaneck | • Ebony Marcelle |
| • Tiffany Gillette | • Michelle Hale |
| • Dale Buchanan | • Millicent Edgar |
| • Jennifer Mainor | • Nancy Mwania |
| • Elijah Kim | • Ashley Saylor |
---