null
Fall 2021 Final DNP Presentation Schedule!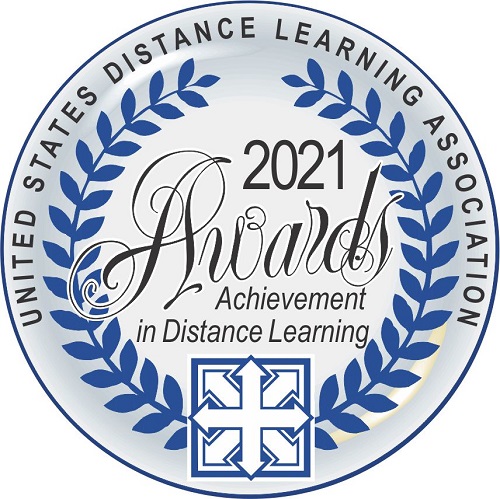 Frontier Nursing University Receives United States Distance Learning Association International Distance Learning Award
Frontier Nursing University received an International Distance Learning Award, presented by the United States Distance Learning Association (USDLA). The USDLA revealed the International Distance Learning Award winners during a virtual announcement on November 12, 2021.
Each year, USDLA recognizes innovators and leaders within the distance/digital learning industry as part of our International Award program. These highly coveted awards are presented annually to organizations and individuals who compete across several categories of excellence. The USDLA International Distance Learning Awards are created to acknowledge major accomplishments in distance learning and to highlight those distance learning instructors, programs, and professionals who have achieved and demonstrated extraordinary achievements through the use of online, videoconferencing, and satellite/video delivery technologies globally.
"The International Award program has provided prestigious recognition for educational influencers around the globe for many years," says Dr. Arletha McSwain, President of USDLA. "These award winners are truly leaders in the distance/digital learning industry, and their work in support of pedagogy is unsurpassed."
This year, FNU was chosen by the selection committee as the runner-up to the University of Cincinnati for the 21st Century Award. According to the USDLA, "this award is given to an agency, institution, or company that has shown outstanding leadership in the field of distance learning. The award recognizes pioneering organizations in the field that have changed distance learning, challenged existing practice, or developed new and effective solutions."
Founded in 1939 in rural southeastern Kentucky, Frontier incorporated distance learning more than 30 years ago to broaden its reach and allow students from all over the country to attend. Since then, FNU's enrollment has increased from 200 to more than 2,500. FNU students, who are all seeking advanced nurse-midwifery or nurse practitioner degrees, come to campus at least twice during their academic program but are otherwise able to attend the university while continuing to work in the communities in which they live.
"Frontier Nursing was on the leading edge of distance learning even before the invention of the internet," said FNU President Dr. Susan Stone, CNM, DNSc, FAAN, FACNM. "It has been essential not only to our growth, but to our mission to prepare our students to care for women and families, particularly serving diverse, rural, and underserved populations. To be recognized as a leader in distance learning by the USDLA is a tremendous honor. We are grateful for USDLA's impactful and essential leadership and advocacy for distance learning."
Each year, the annual award winners are recognized by the Association at the USDLA National Conference Awards Dinner and presented with a physical award. However, due to the continued pandemic concerns in 2021, USDLA decided to virtually recognize the award winners during National Distance Learning Week (NDLW). All award winners will also be invited to the USDLA 2022 National Conference in Nashville, Tenn., to be recognized in person.





Coronavirus Preparedness and Updates
Frontier Nursing University is committed to keeping everyone in our community informed regarding the coronavirus (COVID-19), both in terms of how to help prevent the spread of the virus and what actions FNU is taking. On this website, we will share updates and information pertinent to the entire FNU community. We are committed to the health and safety of the FNU community and are working in alignment with local, state, and national agencies and government to actively and responsibly respond to this public health threat.

FNU remains open during the COVID-19 pandemic and will continue to accept applications to our distance education programs. please access the Application Deadline page for the next application deadline.
Frontier would like to congratulate our Summer 2021 DNP Graduates!
Summer 2021 DNP Graduates:
| | |
| --- | --- |
| • Hailey Baker | • Melissa Benardot |
| • Holly Borkert | • April Bradshaw |
| • Taylor Brockman | • Seqouyah Brown |
| • Mindy Brown-Lechner | • Victoria Buchanan |
| • Reisha Caudill | • Marjorie Cecil |
| • Aiste Chamblin | • Jennifer Choatie |
| • Renee Clark | • Krystal Cooley |
| • Jeffery Cowley | • Brittany Dawson |
| • Marian Dean | • Tiffany Figuero |
| • Ashley Fournier | • Autumn Fuselier |
| • Cassandra Garcia | • Sammy Gathiru |
| • Caitlin Goodwin | • Kayla Hallock |
| • Stacie Hanna | • Kai Hawkins |
| • Tatyana Jack Ruddock | • Jodi Kottwitz |
| • Ruby Kujore | • Leslie Kwiatkowski |
| • Rachel Lien | • Lean Carlo Losinio |
| • Marian Lott | • Melissa Matthews |
| • Karen Mcdonald | • Charles Mcglade |
| • Sarah Mess | • Ruth Mielke |
| • Lacey Mills | • Hazel Mitchell |
| • Michelle Mitchell | • Tricia Neu |
| • Chanelle Nsangou | • Oluwakemi Ojo |
| • Julie Ondersma | • Leann Ottomeyer |
| • Protegenie Reed | • Amy Sanderson |
| • Stacey Shearin | • Tennille Simms-Allen |
| • Leahdon Staples | • Becky Stubblefield |
| • Christy Turner | • Anna Wolf |
---