null
The Loss of One of Our Own
May 25, 2021
Dear Frontier Community,
I want to share with you that we are all grieving for the sudden loss of one of our faculty members. Dr. Jan Weingard Smith died of sudden cardiac arrest on Saturday, May 22. Jan was a committed faculty member, a wonderful midwife, a mentor to other faculty and students, and connected in so many ways to our community. We will all miss her beautiful smile and her enthusiasm for helping others in so many ways. Her obituary is below. Also a very thoughtful poem that Jan wrote which I believe reveals what a beautiful soul Jan was.
Jan's daughter, Michelle Perry, shared her address for anyone who would like to send their condolences:
Michelle Perry
13605 Janwood ln
Dallas, TX 75234
Jan's daughter also thought that Jan's father would also appreciate condolences. Jan was the fourth child he lost, only her sister Deb is left. At 100 years old (101 in July), Murray Weingrad lost his beloved wife, Genevieve Weingrad (99 y/o) in March. It has been a challenging year for her family!
Here is his address:
Murray Weingrad
143 Hoyt Street
Apt 4H
Stamford, CT 06905
With great sadness, Dr. Stone
https://www.legacy.com/obituaries/thehour/obituary.aspx?n=jan-weingrad-smith&pid=198771853
Hands
These are my hands
Through these hands I have come to see the world.
These hands have measured the growth of life
and documented the stalling of time.
They guide my ears to places where I hear
The watch-like beat of tiny hearts.
My hands have felt the hard bony framework of passages
and the softness of muscles
Which will bulge like petals of a rose.
My hands have opened windows to the energy
Of the souls of those I have touched.
They have felt the frigid rigidity
Of steel instruments and the softness of a friend.
There are stories in these hands,
read from the pages of the work of women.
With my hands I felt the power
Of the strength it takes to grow
and release a new spirit.
My hands were born with the knowing of touch.
The journey has added the how and when
and the time to ask for help.
Teaching hand engulfed mine
until they were ready to fly.
My hands are joined in a circle which is
Unbroken through time.
Sometimes my hands do nothing.
Their most important work
will be still with fingers laced
and witness
The "art of doing nothing" has been passed
from one generation to the next.
Mine have been taught by some of the most powerful hands
to watch and wait.
This is perhaps the hardest for
hands born to touch.
If I have nothing else to give to you, let me
teach you how to see with your hands.
How to open the windows of life, and close
the door softly when it is time.
In the darkness
It is your hands that will light the way.
These are my hands.
These are the hands of a midwife.

Jan Weingrad
Are You Registered Yet?

DIVERSITY IMPACT EVENT
The Diversity and Inclusion Office at Frontier Nursing University (FNU) is hosting its 11th annual Diversity Impact Conference, June 24-26, 2021, as a virtual event on the Zoom platform. The year will mark over a decade of bringing together national thought-leaders and speakers to engage with the FNU community on important topics facing the nursing and midwifery workforce.
The event opens the door for nurse practitioner and nurse-midwifery students to join FNU faculty and staff in collaborative discussions, address health disparities, and find proactive solutions to improve minority health among underrepresented and marginalized groups.
The annual Diversity Impact Conference is open to FNU students, alumni, faculty, and staff who want to become part of FNU's legacy of providing care to rural and underserved communities. Those that participate will engage in cross-cultural activities and intercultural workshops, along with nurse-leadership strategies on how to effectively care for diverse populations within their communities.
This year's three-day virtual conference is expected to unite more than 100 FNU students, alumni, faculty, staff, and community leaders, and will include:
Sessions hosted by nationally recognized nursing leaders

Cross-cultural activities and intercultural workshops

Team-building exercises, cultural competency awareness training, and open dialogues

Networking with FNU students, alumni, faculty, and staff to strengthen collaborative discussions

Nurse-leadership strategies and much more!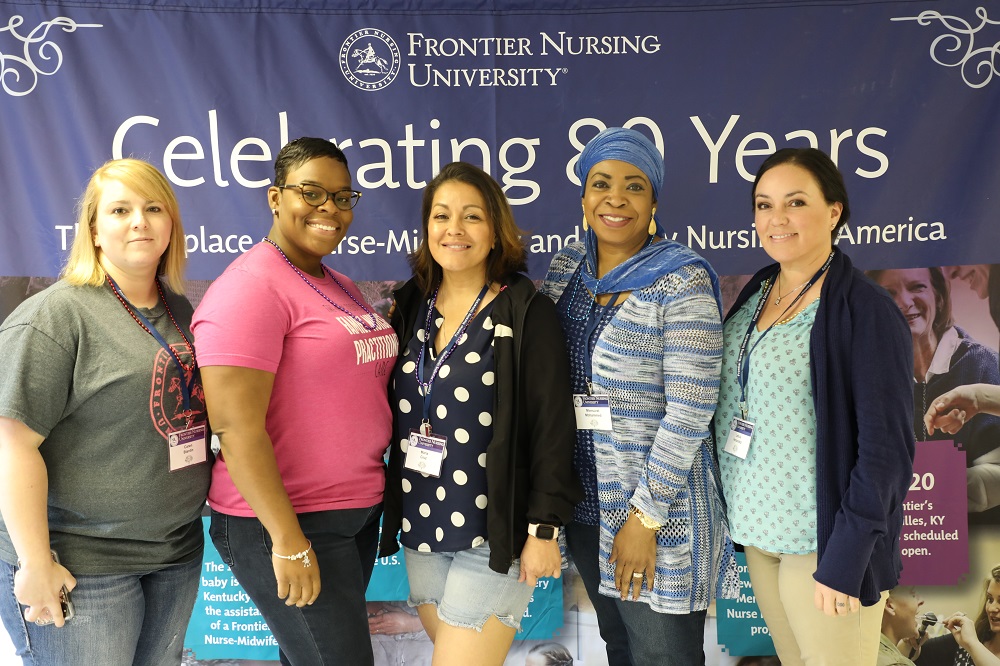 Click Here to learn more about FNU's Diversity Impact!


Coronavirus Preparedness and Updates
Frontier Nursing University is committed to keeping everyone in our community informed regarding the coronavirus (COVID-19), both in terms of how to help prevent the spread of the virus and what actions FNU is taking. On this website, we will share updates and information pertinent to the entire FNU community. We are committed to the health and safety of the FNU community and are working in alignment with local, state, and national agencies and government to actively and responsibly respond to this public health threat.

FNU remains open during the COVID-19 pandemic and will continue to accept applications to our distance education programs. please access the Application Deadline page for the next application deadline.
Frontier would like to congratulate our
Winter 2021 DNP Graduates!
| | |
| --- | --- |
| • Lauren Agner | • Francis Aho |
| • Ayanna Artis | • Monica Benjamin |
| • Elizabeth Birkey | • Kimberly Broughton-Miller |
| • April Campbell | • Kathryn Capan |
| • Yina Cruz | • Akosua Darkwah |
| • Lisa Dunton | • Gaelle Duvivier |
| • Eric Efuetngu | • Christina Felten |
| • Sylvia Garnicasoto | • Thomas George |
| • Sarah Gill | • Megan Hackl |
| • Anthone Jeon | • Kimberly Jones-Beatty |
| • Brenna Kirsch | • Lawanda Mann |
| • Bianca Mcclammy | • Emilie Mclain |
| • Sally Mcnally | • Lauren Nabiyev |
| • Christina Newsome | • Patricia Newton |
| • Natachele Oscar | • Stephanie Panagiotu |
| • Kielee Pelland | • Angela Price |
| • Alison Reid | • Robert Reynolds |
| • Cory Rogers | • Marie Stanley |
| • Courtney Subudhi | • Lily Tung |
---