Faculty Kudos!
Congratulations to FNU Faculty Member, Meghan Garland MSN, CNM for her most recent publication in The Journal for Nurse Practitioners below.
Garland, M. (2017). Physical activity during pregnancy: A prescription for improved perinatal outcomes. The Journal for Nurse Practitioners.
---

FNU launches new Innovation Center!
Dr. Anne Cockerham gives us a glimpse into the FNU Innovation Center here.
---

FNU attends the 2017 AANP Conference
Read our latest blog post to catch up on faculty and alumni kudos and all of the FNU happenings at 2017 AANP now.
---
FNU Diversity PRIDE Meeting!
Tuesday, July 25th | 6:45pm (est)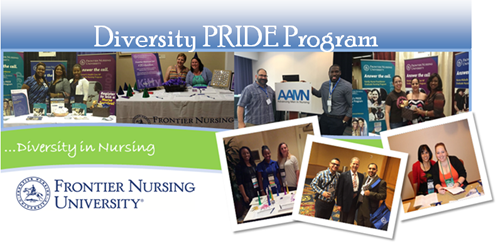 PRIDE MEETING: Engaging in Nurse Leadership
PRESENTER: Katrin Moskowitz, RN, DNP Class #14, FNU CNEP #129
Looking at the future, healthcare industries see the evolving needs of patients and are focused on providing nurses with the needed leadership skills required to meet the growing demands of providing primary care to an increasingly diverse patient landscape. This session will open discussions on ways the Duke-Johnson & Johnson Nurse Leadership Program, located in Durham NC, is preparing nurses to lead nurse-managed practices and advocate for effective new practice models for underserved, underrepresented, and marginalized patient populations. Attendees will have the opportunity to reflect and share their thoughts and goals on how to achieve positive outcomes in their professions through nurse-leadership.
Katrin Moskowitz is a FNU Alumni and Diversity PRIDE member dedicated to improving community health as a Family Nurse Practitioner in Torrington, Connecticut. Katrin was awarded the 2016-2017 Fellows into the Duke-Johnson & Johnson Nurse Leadership Program at Duke University. Read more about Katrin here.
Log-On Instructions
An invitation via google, will be sent out to students, faculty & staff with log-on instructions for the webinar.
---

Welcome Randle Teague!
Please welcome Randle Teague. Randle will start as the leader of the Accounting Department on July 17th. Mr. Teaque has over 16 years of finance and accounting experience in Higher Education. For the past 12 years Randle has been with the University of the Cumberlands in Williamsburg, KY.
---

FNU Diversity PRIDE Visits Kentucky State University & the University of Louisville
The annual Kentucky State University (KSU) Career Fair was held in Frankfort KY, on March 29, 2017 with hundreds of undergraduate students in attendance. FNU Student Ambassadors Nichole Jackson and James Johnson represented FNU and the Diversity PRIDE program, along with Mandy Hancock, the Program Coordinator of the Courier Internship Program at Frontier Nursing University. Read the full story
The annual KYANNA Black Nurses Scholarship & Leadership Conference held in Louisville KY, on April 8, 2017, brought in attendees from across the state. FNU PRIDE Student Ambassadors, Whitney Graves and Nichole Jackson represented Frontier Nursing University and the Diversity PRIDE Program, on the Belknap campus of the University of Louisville. Read the full story
---

Faculty Kudos!
Congratulations to Dr. Vicky Stone-Gale. She was one of 67 nurse practitioner (NP) leaders selected for induction to FAANP in June 2017. Please help us celebrate this accomplishment with Dr. Stone-Gale! She is pictured here (center) with FNU Dean of Nursing, Dr. Julie Marfell (left) and her FAANP sponsor, Dr. Patricia Pearce (right).
---

Featured Preceptor
Congratulations to Maggie Hughes, CRNP, on being our featured preceptor this spring! Ms. Hughes, from Ozark, AL, has been providing care for over 10 years and is known as a true pillar of the community.
She was nominated by recent graduate​, Kathleen Harvey, seen here on the right. Please read the full story here.
---
Important updates to Clinical Site Approval Forms!
Dear Students,
There have been recent, exciting changes at FNU related to Clinical Planning making the process easier and more transparent for students, faculty and staff.
If you have already submitted paper CSAFs to your RCFs, these will be processed as usual and the information will be submitted to My Clinical Plan. You will be able to view the progress on My Clinical Plan as they are processed by the RCFs and Credentialing. Please do not resubmit the same site/preceptors through the Community Map if you have already sent the information in the old paper format.
After April 4, 2017 ALL site and preceptor requests must be submitted using the new process utilizing the electronic CSAFs; these will link automatically within My Clinical Plan upon submission and review by RCFs and Credentialing.
The RCFs will assist you with this process and there are comprehensive resources from Credentialing including videos and information related to the Community Map, CSAF and My Clinical Plan.
These new resources are in the Portal Page (Department/Credentialing Department). You can review the new process here (you will need to login to the Portal first with your FNU credentials to access these resources).
There are multiple upcoming opportunities over the next few weeks to drop in virtually and work with faculty and staff on this new process.
Please let us know if you have any questions.
Sincerely,
Dr. Jane Houston and Dr. Irma Jordan, Clinical Directors
---

G Suite Training!
Please take a few minutes to get familiar with the new G Suite Learning Center made available for you to find the training you need to communicate, store, and collaborate using all of Google's applications. There is a great Chrome extension that offers simple and interactive training lessons on Gmail, Calendar, Sheets, Slides, and Docs. Lastly, take a few minutes to visit the G Suite Training Videos and watch the great training content on all of Google's products!
---
ATTENTION STUDENTS:
Frontier now has a STUDENT FEEDBACK Survey. Here is a link to the survey. Please use this survey any time you contact FNU to let us know your thoughts about the services you received from faculty and staff. Each term respondents will be entered into a raffle for prizes from the Frontier Gift Shop.
---