Congratulations to FNU President Susan Stone!
Dr. Stone was elected as ACNM President-Elect for 2017. Dr. Stone will work alongside the current ACNM President for 1 year, and officially become President after the ACNM 63rd Annual Meeting in Savannah in 2018. We are very proud to see her take on this new role at ACNM.
Congratulations also to FNU Faculty elected/re-elected to the following positions:
Region IV Representative Kathleen Moriarty, CNM, PhD, RN, CAFCI, FACNM
Nominating Committee members Charlotte Morris, CNM, DNP
---

Welcome DeLana Gardner!
We would like to welcome DeLana Gardner, DNP, MSN, FNP-C, ARNP to Frontier as Course Faculty. Delana received her Masters in Science of Nursing, Family Nurse Practitioner from Frontier Nursing University in 2013 and her Doctorate of Nursing Practice in 2016. She is affiliated with the American Academy of Nurse Practitioners, Central Arizona Nurse Practitioners and the National Association of Family Nurse Practitioners.
---

Congratulations to Dr. Vicky Stone Gale!
Dr. Vicky Stone Gale DNP, ARNP, FNP-C . Dr. Stone Gale has been selected to become a member of Fellows of AANP. AANP Fellows are selected based on outstanding contributions to clinical practice, research, education or policy. Dr Stone Gale will be inducted in June at the annual AANP conference.
---
Winter 2017 Course Evaluations!
Winter 2017 Course Evaluations are now open in Tk20. Students can access the course evaluations by logging into the FNU Portal page, selecting Tk20 located under APPS. The last day to complete a course evaluation is March 20, 2017. Course evaluation results will be available to faculty on March 21, 2017.
---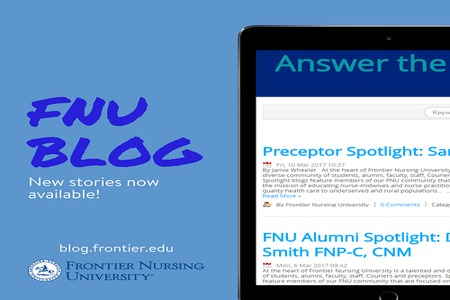 Have you read the FNU blog (http://blog.frontier.edu/) lately?
Enjoy these latest stories and others at blog.frontier.edu
It Takes a Village: Interprofessional Midwifery
FNU honored with Jonas Nursing Education Award
Let's chat about it: Why you should consider a DNP degree
Alumni Spotlight: Kerri Schuiling PhD, CNM, MSN
---

Faculty Kudos!
FNU Associate Professor and RCF, Trish McQuillin Voss, ND/DNP, MSN, CNM was recently highligted in the ACNM Oregon Affiliate Newsletter! Dr. Voss was recognized for her work with the LGBTQ community. Specifically, Dr. Voss is "developing a faith community nursing practice in partnership with my church. It will start with being a safe place for those in the LGBTQ community to receive primary healthcare screening, and to learn where they can find appropriate followup care around the state." We are proud of your excellent work, Dr. Voss!
---

Faculty Kudos!
Nicole Lassiter, CNM, MSN, WHNP is newly elected as the Treasurer for the Colorado chapter of the American Psychiatric Nurses Association (APNA).
---

Student Kudos!
Congratulations to FNU Student, Essence Williams, RN, BSN, CBC, CCE (CNEP Class 140) ! Essence was selected as one of three recipients for the AWHONN 2017 Minority Nurse Scholarship sponsored by Procter & Gamble - Pampers. Essence will formally accept this award during AWHONN's 2017 Annual Convention in New Orleans, Louisiana. Congratulations and a job well done, Essence!
---

Featured Preceptor!
Congratulations to Sandy Blaser, CNM, on being our featured preceptor this winter! Ms. Blaser, from Pittsburgh, PA, has been providing nurse-midwifery care for over 14 years and is a graduate of Frontier. She was nominated by RCF Metta Cahill.
Please read the full story here.
---

G Suite Training!
Please take a few minutes to get familiar with the new G Suite Learning Center made available for you to find the training you need to communicate, store, and collaborate using all of Google's applications. There is a great Chrome extension that offers simple and interactive training lessons on Gmail, Calendar, Sheets, Slides, and Docs. Lastly, take a few minutes to visit the G Suite Training Videos and watch the great training content on all of Google's products!
---
Seeking Proposals!
9th Annual Virtual International Day of the Midwife
Starting 4th May 2017 at 22:00 UTC
24 hours of free online presentations for and about midwives
For more details Click Here.
---
AN EXCITING OPPORTUNITY FOR ALL CNEP STUDENTS!!!
FNU now has an agreement with DREXEL (PHILADELPHIA) for FREE OB SIMULATION labs-
Here are the details:
Students pay for transportation and accommodations. The lab experiences and breakfast/lunch and snacks are provided for FREE.
CLICK HERE TO SEE THE DETAILS REGARDING 2017 DATES.
---