Heart of Midwifery: Grace in Action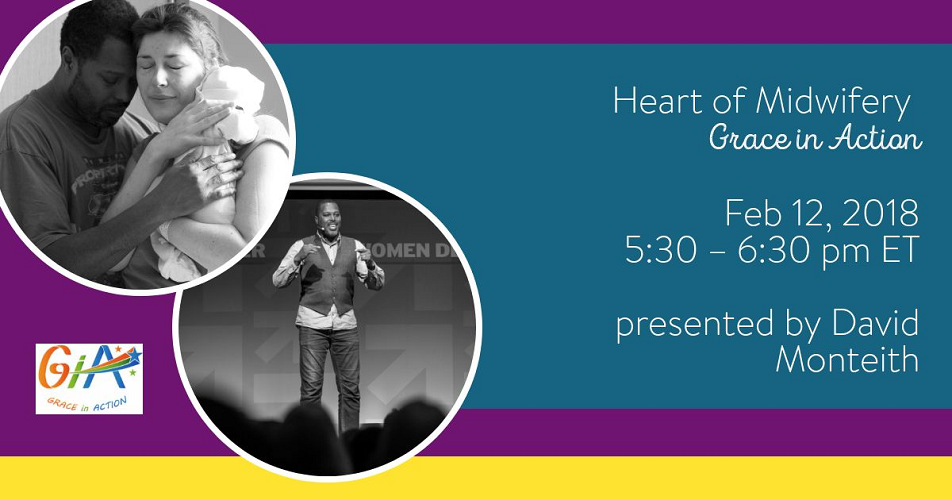 Join our guest, David Monteith, as he presents "Heart of Midwifery: Grace in Action"
Join Frontier Nursing University students, faculty, alumni, preceptors and friends as we spend an hour exploring "The Heart of Midwifery: Grace in Action" with David Monteith. This interactive session is open to anyone interested in reflecting upon the Heart of Midwifery.
Monday, February 12, 2018
5:30 pm to 6:30 pm ET
On the day/time go here: https://frontier.blindsidenetworks.net/frontier
Select room: Digit Summit
Enter password: digitalsummit
You can join the conversation on our Facebook event page at https://www.facebook.com/events/419764475123616/
---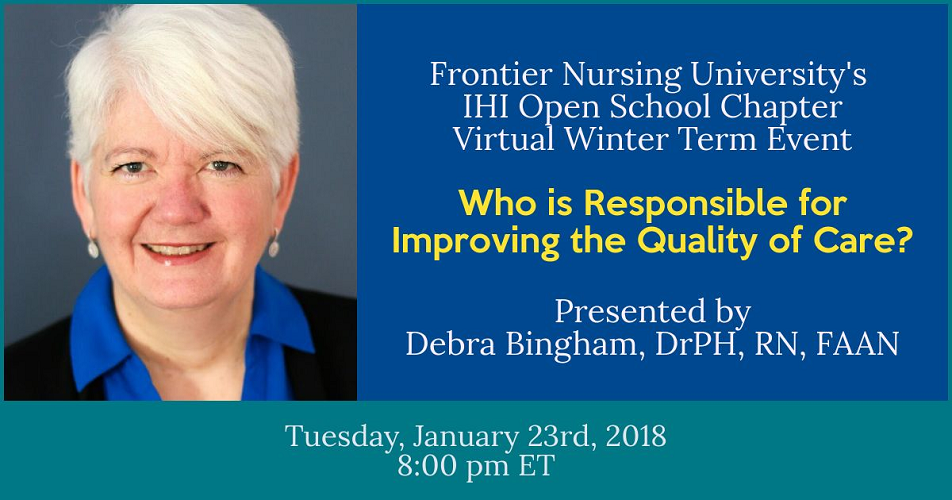 FNU's IHI Open School Chapter Virtual​ Event
Who is Responsible for Improving the Quality of Care?
Presented by Debra Bingham, DrPH, RN, FAAN
Tuesday, January 23rd
8:00 pm ET
Dr. Debra Bingham has over 30 years experience in Maternal Child Health Nursing, a master's degree in perinatal nursing from Columbia University, and a doctorate in Public Health from the University of North Carolina-Chapel Hill. Most of Debra's career has been spent working in hospital leadership positions at the front lines of healthcare. For example, she has held the positions of Director of Maternal Child Health Nursing for 2 union hospitals in New York City, Manager of a large referral Neonatal Intensive Care Unit in New York City, a stand-alone birthing center in a small community hospital, and a fetal evaluation unit.
Currently Dr. Bingham is an Associate Professor of Healthcare Quality and Safety at the University of Maryland School of Nursing, a perinatal consultant and the founder and Executive Director of the Institute for Perinatal Quality Improvement (www.perinatalQI.org).
To join this event on the specified date:
1. Join us in Big Blue Button
http://frontier.blindsidenetworks.net/frontier/
2. Enter your full name
3. Select classroom as "Digital Summit"
4. Enter password: IHI2018
Click here to view/join the Facebook Event Page
---

Jean Fee!
It is with great sadness we learned about the passing of our beloved Jean Fee yesterday. Jean, a 1959 Frontier School graduate, worked as a district nurse for the Frontier Nursing Service. She loved FNS and Frontier Nursing University dearly and visited campus regularly to share stories of her time as a Frontier nurse with the students. Most importantly, she was a wonderful spirit and a great friend to us all. She will be missed by everyone deeply.
You can read more about Jean here.
---

Featured Preceptor!
Congratulations to Ms. Susy Furr, FNP, from Leesburg, VA, our featured preceptor this fall term. Ms. Furr was nominated by FNU nurse practitioner alumna, Beth Morrell (class 106, spring 2015 graduate). Susy has been described as "an incredible teacher." Please read the full story here.
---

Welcome Shaughanassee Williams!
Shaughanassee is a prior student and current preceptor of Frontier Nursing University. She received her Doctor of Nursing Practice in June, 2017. Her professional memberships include American College of Nurse Midwives and the Virginia Council of Nurse Practitioners. Her community service includes YWCA Virginia Peninsula, Board Member, Urban League of Hampton Roads Young Professionals, Board Member and Word in Seasons Ministry and Family Life Center, Ministry Leader.
---