The Courier Program is an eight-week rural and public health service-learning program with a rich and adventuresome history that targets college students with an interest in public health, healthcare, or a related field. The Courier Program offers a unique opportunity for students to gain insight into the challenges and opportunities of providing healthcare in rural and underserved areas. Throughout this eight-week program, Couriers become immersed and engaged through their Courier Clinic Site. These sites will be in rural areas and/or in areas with mental health or primary care shortage areas serving medically underserved areas/populations. Couriers will also complete an online learning component during their internship, and serve the local community.
During their time on site, Couriers will shadow a variety of clinicians and provide leadership on special projects, as well as other avenues of community participation. Courier's experiences help them to fully comprehend the complexities of rural and underserved communities and healthcare, as well as grasp the compassionate and caring legacy established by our founder, Mary Breckinridge, which is carried on by FNU students, alumni, Couriers, and faculty.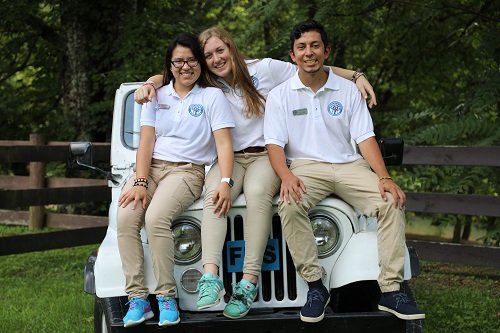 The Courier Program has a "Hearts On, Hands Off" approach to learning. Couriers learn by observing their clinic site mentors, speaking with patients, and assisting with special projects, such as working at health booths, creating brochures on health-related topics, leading events, and other meaningful activities. Couriers may participate in any activity that does not require formal medical or healthcare training. Couriers leave with a profound understanding and deep respect for the communities they serve during their time as a Courier.
Former Couriers share that their experiences were eye opening and adventures of a lifetime. Don't miss out on this incredible experience!
Please explore the side tabs to find out more about the Courier Program.