National Association of Hispanic Nurses (NAHN)
The National Association of Hispanic Nurses (NAHN) is currently the only nursing organization that focuses on Latino nurses. With close to 2000 members and over 44 chapters across the country, NAHN is also committed to representing the number of licensed Hispanic nurses in the United States and to promote the recruitment and retention of Hispanic students in nursing education programs to increase the number of bilingual and bicultural nurses to provide culturally sensitive nursing care to Hispanic consumers and communities.
The national conference helps bring together nursing students, nurse professionals, community leaders, and health industry experts to advance the educational, professional and leadership skills of Hispanic nurses and increase the number of Hispanic researchers, administrators and educators. NAHN aims to serve as a model of excellence by providing opportunities for members and Latino nurses across the country, and promote quality health care to Latino communities. NAHN welcomes not only Latino nurses and health care professionals, but also those from any ethnic background who are leaders in improving health care for the Latino community.
Why attend NAHN?
Addresses social and public health issues impacting Hispanic communities.

Conference aims to raise awareness on Latino nurses in the healthcare profession.

Provides unique perspectives related to Hispanic health care needs.

Participate in best practices for nurse leadership and professional development.

Participate in best practices in the care of Hispanic patients.

Brings together nursing students, community leaders and industry experts.

Opportunities to attend conferences to represent FNU as a Student Ambassador.
FNU Events
The national NAHN conference is an event that brings together thousands of nurses health leaders and healthcare experts who come together to highlight and focus on Lation nurses providing care to Hispanic patient populations. NAHN conferences are held each year in various cities throughout the country. FNU attends the conference and represents the university with information on FNU's degree specialty tracks and the Diversity Program.
Click Below to learn more about FNU attending NAHN!
Past nahn Events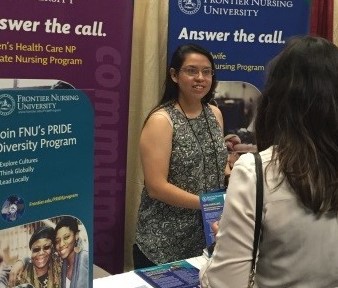 "I would encourage any other Hispanic nurse or people who are primarily delivering care to Hispanic populations, to attend this conference and find out - get an inside scoop- as to what matters to Hispanics and Hispanic nurses."

- Adriana Hernandez
Nurse-Midwifery Graduate